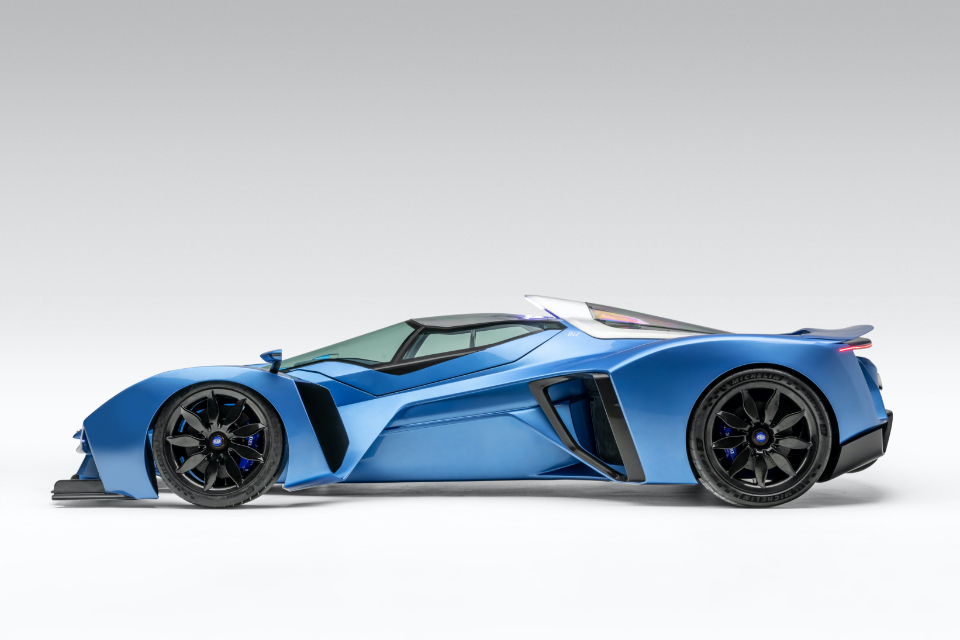 Delage-Automobile's D12 Hypercar
The manufacturer of the French Hypercar "Delage D12" has developed an innovative and unique system in the world of Hypercars: The possibility of converting the Delage D12 coupe into a Speedster or an "F1".
The operation requires less than ten minutes for two people. It consists of removing the fighter-jet type canopy
from the coupe, and replacing it either:
-by a little smaller windshield, transforming the car into a Speedster.
-by a wind deflector, transforming the car into an "F1". This modification is accompanied by a protective halo
and a very high-end helmet, which the client is free to install/wear if he wishes.
The "Speedster" option is invoiced at EUR 190,000 excluding tax. Same for the "F1" option including the halo
and the helmet. The "all conversions" option, which includes both the Speedster option and the "F1" option, isinvoiced at EUR 260,000 excluding taxes.
Only 30 D12 would be produced

The Delage D12 will be in the United States for part of August and September in order to carry out a "US Tour" intended to introduce it to American Hypercar buyers, before returning to France in the second half of September. It will continue its development there, before carrying out a private test session for its French prospects, on one of the
FIA-approved national circuits, by the end of October.
Its European homologation process has begun, with a target of completion by the summer of 2023, i.e. 6 months before the deliveries of the first cars already ordered.
---
Information Source: Read More
ENERGY | ELECTRIC POWER | NATURAL GAS | AUTOMOTIVE | CLIMATE | RENEWABLE | WIND | TRANSITION | LPG | OIL & GAS | SOLAR | ELECTRIC VEHICLES| BIOMASS | SUSTAINABILITY | OIL PRICE |COMMODITIES | ELECTRIC POWER | NUCLEAR | LNG | REFINED PRODUCTS | SHIPPING|