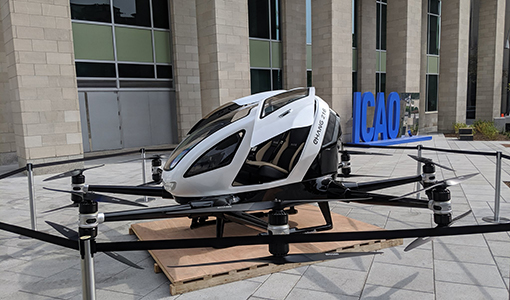 EHang to Accelerate Urban Air Mobility Services
The Civil Aviation Administration of China ("CAAC") recently announced the first Unmanned Civil Aviation Experimental Zones ("UCAEZs") to solidify China's global leadership in developing an unmanned civil aviation industry. The list of UCAEZs covers as many as 13 cities including Beijing, Shanghai, Hezhou, Hangzhou, Zigong, Anyang, Nanjing, Tianjin, Yulin, Shenyang, Dongying, Anqing and Ganzhou.
---
As the world's leading autonomous aerial vehicle ("AAV") technology platform company, EHang Holdings Limited (Nasdaq: EH) ("EHang" or the "Company") will leverage this new policy to accelerate implementation of its Urban Air Mobility ("UAM") Pilot City Initiative in the UCAEZs. Under the guidance of the CAAC and the UCAEZs, EHang will soon initiate regular UAM operational services. As such, EHang is to gradually expand its business model from an AAV solution provider to a UAM platform operator as planned.
With the implementation of UCAEZs in China, EHang will continue to accelerate the regular operations of its AAV technology solutions for various practical use cases including passenger transportation, aerial sightseeing, air logistics, aerial firefighting, emergency rescue, medical transportation and so on.
---
Information Source: Read More……….

Submitted by: Press release
---
Related News: Revolutionary flying drone taxi hovers 150ft above Seoul river to show what it can do.
---
Report by: OGP/Segun Cole , Please email us your industry related news for publication info@OilAndGasPress.com
Follow us: @OilAndGasPress on Twitter | OilAndGasPress on Facebook