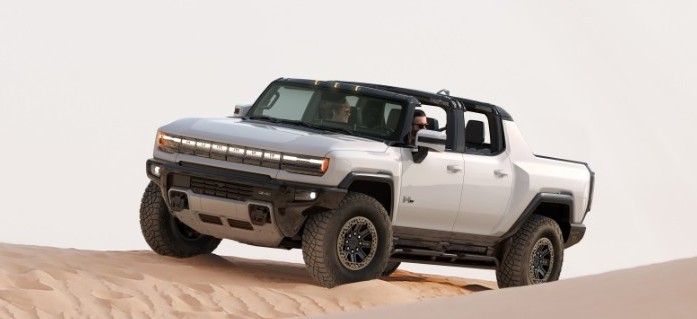 2022 GMC Hummer EV
The HUMMER EV will be the first full-electric vehicle in GMC's portfolio powered by General Motors' new Ultium battery system. The battery cells will be produced as part of a joint venture with LG Chem, at a new facility, in Lordstown, Ohio.
---
Initial production begins in late 2021, at GM's Factory ZERO, Detroit-Hamtramck Assembly Center
---
2022 GMC HUMMER EV will be the ultimate off-road EV supertruck, with all-new features developed to help conquer tough obstacles and terrain.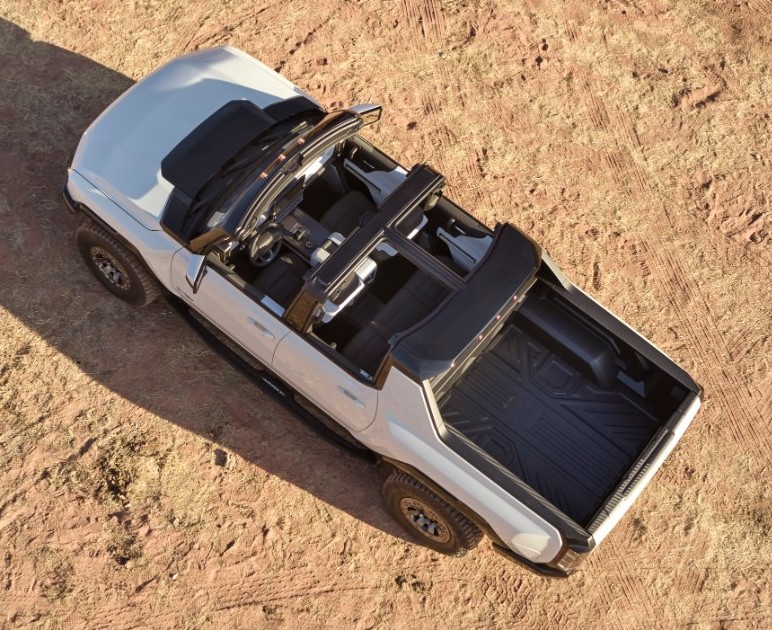 "GMC has long been a leader in professional-grade trucks and the all-new GMC HUMMER EV will help to establish new standards in capability, maneuverability and driver control," said Al Oppenheiser, HUMMER EV chief engineer. "Our goal was to develop the most capable, factory off-road pickup on the market. We're excited to show the world what 100-plus years of truck know-how can do when applied to EV power."
The unique e4WD drive system with torque vectoring will enable maneuverability and traction unlike anything GM has ever offered and should allow the vehicle to reach new destinations over the most challenging terrain — with capabilities including climbing 60-percent grades (forward and reverse), scaling 18-inch verticals and fording water more than 2 feet deep.
---
HUMMER EV's Drive Mode Control's five drive modes — four pre-configured modes and the driver-configurable My Mode — will enable the driver to tailor the vehicle's performance, including torque distribution, four-wheel steering, ride height, shock damping, throttle maps, brakes and interior sound enhancement. The modes suit a variety of driving conditions, from rock crawling to highway driving and even trailering.
---
Drive Mode Control also includes Terrain Mode, which offers unique one-pedal EV driving tailored for off-roading. It allows the driver to negotiate challenging terrain at low speeds by simply modulating input on the accelerator pedal
---
The HUMMER EV Edition 1's authentic off-road features include:
---
Independent front and rear suspension systems that are paired to the drive motors and are designed to optimize handling in off-road conditions and ride comfort on the highway
Front e-Locker — an electronically controlled, driver-selectable locking differential that elevates traction capability by locking both front wheels, so that they turn at the same speed. Up to 100 percent of available torque can be sent to either of the front wheels for maximum traction capability and fully synchronized e4WD propulsion
Rear virtual locker — simulates a locking differential for the dual-motor rear drive unit. It is capable of torque vectoring, which can vary the amount of torque sent to each wheel to optimize not only traction in off-road conditions, but enhance on-road driving dynamics
Heavy-duty ball-spline half-shafts that maximize axle articulation for ample maneuverability, while also reducing feedback through the steering system in hard-cornering and other off-road driving conditions
Standard 18-inch wheels with 35-inch-OD Goodyear Wrangler Territory MT tires that offer exceptional strength and flexibility to optimize maneuverability with the HUMMER EV's unprecedented off-road capability. Additionally, the vehicle is engineered to accommodate 37-inch tires4
Underbody armor, consisting of five skid plates/rock sliders and two underbody shields to protect the battery pack, drive units and more
UltraVision5 that includes new front and rear underbody cameras with live "virtual spotter"' views to help drivers navigate obstacles and place wheels on and off the trail. The underbody cameras are specially packaged to help protect against damage and equipped with a wash function to help remove debris. HUMMER EV offers a best-in-class total of 18 available camera views6 from the vehicle, helping increase awareness of surroundings, serving as a virtual spotter
---
The HUMMER EV's unique architecture offers inherent advantages for off-road driving, with the placement of the batteries contributing to a low center of gravity for stability, while the design of the drive motors eliminates the axle "pumpkins" and prop shaft in conventional trucks, which helps optimize ground clearance.
Information Source: Read More…..
---
Submitted by: Press release
---
Report by: OGP/Segun Cole , Please email us your industry related news for publication info@OilAndGasPress.com
Follow us: @OilAndGasPress on Twitter | OilAndGasPress on Facebook
---
Disclaimer
Most News articles reported on OilAndGasPress are a reflection of what is published in the media. OilAndGasPress is not in a position to verify the accuracy of daily news articles. The materials provided are for informational and educational purposes only and are not intended to provide tax, legal, or investment advice. OilAndGasPress welcomes all viewpoints. Should you wish to provide a different perspective on the above article, please email us info@OilAndGasPress.com