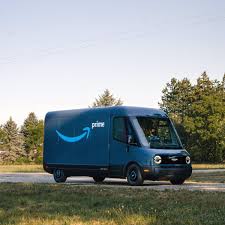 Amazon's custom electric delivery vehicle
Amazon has introduced its first custom electric delivery vehicle, designed and built in partnership with Rivian. Amazon ordered 100,000 electric delivery trucks from Rivian as part of going carbon-neutral by 2040

---
In support of The Climate Pledge commitment, 10,000 Amazon custom electric delivery vehicles will be on the road delivering to customers worldwide as early as 2022 and all 100,000 by 2030.
The customised electric vehicle (EV) has industry leading safety, navigation and design features, Such as;
State-of-the-art sensor detection System.
Exterior cameras around the vehicle with 360-degree view outside the vehicle.
Three levels of shelving with a bulkhead door, which can easily be opened and closed for additional driver protection while on the road.
Alexa voice assistant integration of course!
---
Amazon has a long-term goal to power there global infrastructure using 100% renewable energy, and are making progress. With improvements in electric vehicles, aviation bio fuels, reusable packaging, and renewable energy.
---
Information Source: Media
---
Submitted by: Press
---
Report by: OGP/Segun Cole , Please email us your industry related news for publication [email protected]
Follow us: @OilAndGasPress on Twitter | OilAndGasPress on Facebook