Electric vehicle charging device statistics
U.K's Department for Transport reports that as of the 1 April 2020, there were 17,947 public electric vehicle charging devices available in the United Kingdom. Of these, 3,107 were rapid devices.
---
A charging device is a unit capable of charging the batteries of plug-in electric vehicles. Devices are classifed by their power
output, and each device may ofer one or more connecting points.
---
• Since 2015, the number of public charging devices in the U.K. has grown by 402%, with a 61% increase from 2018 to 2019. Rapid charging devices have also grown quickly, increasing by 355% since 2015.
---
• In the frst three months of 2020, 1,436 more devices were available in total, increasing by 9%. Rapid devices also increased by 283, up 10% on the previous quarter.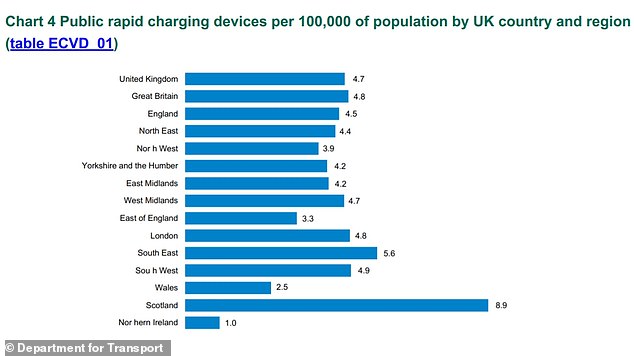 ---
There is uneven geographical distribution of charging devices within the UK. Some UK local authorities have bid for UK Government funding for charging devices, and others have not. Most of the provision of this infrastructure has been market-led, with individual charging networks and other businesses (such as hotels) choosing where to install devices.
---
Source / More information : Official Statistics, U.K Electric Vehicle Charging Device Statistics April 2020
---
Related News : Revealed: There are twice as many public charging points for electric cars in the UK as there are petrol filling stations
---
---
Report by: OGP/Segun Cole , Please email us your industry related news for publication info@OilAndGasPress.com
Follow us: @OilAndGasPress on Twitter | OilAndGasPress on Facebook