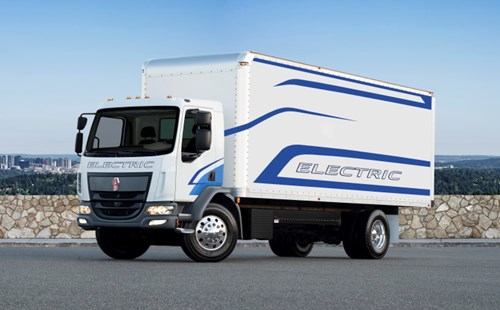 Kenworth K270E and K370E Battery-Electric Vehicles
The zero-emission Kenworth K270E Class 6 and K370E Class 7 battery-electric vehicles are now available for order from Kenworth dealers in the United States and Canada.
The electric powertrain is available with high-density battery packs of 141kWh and 282kWh that deliver up to 100 and 200-mile range, respectively, with zero emissions. The Kenworth electric vehicles utilize a DC fast-charging system capable of fast re-charge in as quick as one-hour, which make the Kenworth K270E and K370E cabovers ideal for local pickup and delivery, as well as short regional haul operations. End-of-shift and overnight AC charging also is offered.
Kenworth battery-electric vehicles offer two direct-drive motors rated at 355 hp and 469 hp, depending on your application. This highly efficient design provides enough torque to start the load from a stop on a 20 percent grade and the power to maintain 40 mph on a 6 percent grade while fully loaded. Regenerative braking in stop-and-go city conditions recharges the batteries and extends brake life.
All of the components necessary to run the e-powertrain, as well as HVAC and e-PTO, are located in one, easy-to-reach power cradle under the cab – the space typically occupied by a diesel engine.
The system configuration also optimizes weight distribution with batteries mounted outside and air tanks mounted inside the frame rails. A quiet e-compressor maintains pressure in the air system.
---
Source: Read More…..
Submitted by: Press release
---
Report by: OGP/Segun Cole , Please email us your industry related news for publication info@OilAndGasPress.com
Follow us: @OilAndGasPress on Twitter | OilAndGasPress on Facebook