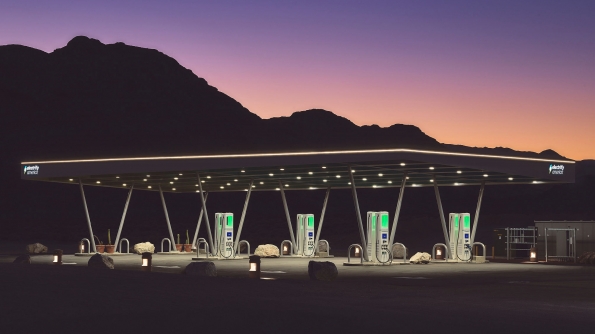 More than 500 Electric Vehicle Charging Stations Open to Public in U.S.
Electrify America announced it has opened more than 500 electric vehicle (EV) charging stations across the U.S., surpassing a significant milestone in the company's expansion. With more than 2,200 individual DC fast chargers nationwide, Electrify America is delivering on its commitment to make EV ownership more convenient than ever.
---
Since opening its first site in May 2018, Electrify America has set a rapid pace for its network expansion, opening an average of nearly four stations per week. Even with the breakneck pace, the network is diligent in ensuring each aspect of the charging experience is designed with the customer in mind.
---
Stations are conveniently located along major routes and in metro areas, strategically placed near shopping, banking and dining amenities. Each station has between three and ten individual DC fast chargers to accommodate multiple vehicles charging at one time. The chargers utilize the fastest technology available today – providing speeds of up to 150kW and 350kW – to help reduce the amount of time spent charging.
---
Customers are also encouraged to take advantage of the Electrify America mobile app, which allows users to easily locate a station, pay and monitor a charging session at any of the network's 500+ locations.
Information Source: Read More……….
Submitted by: Press release
---
Report by: OGP/Segun Cole , Please email us your industry related news for publication info@OilAndGasPress.com
Follow us: @OilAndGasPress on Twitter | OilAndGasPress on Facebook