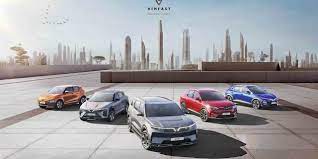 VinFast showcasing four EV models
VinFast announced its participation in Los Angeles Auto Show 2022 (LA Auto Show 2022) from November 17 – 28, 2022, and will be showcasing its four EV models in the B-C-D-E segments. For the first time, customers in California will be able to ride along VF 8, directly experience the integrated smart technology and the detailed designs of two models VF 6 and VF 7.
At LA Auto Show, VinFast will display four all-electric SUV models, the VF 6, VF 7, VF 8 and VF 9 which represent the most popular segments B-C-D-E accordingly. For the first time, U.S customers will experience the interior and exterior design details of the VF 6 and VF 7 models crafted by Torino Design.
VinFast's vehicles will be displayed at the center of the Los Angeles Convention Center's South Hall, in booth S-216. The booth employs streamlined and modern designs with VinFast signature white and blue branding accents.
In addition to the exhibition, for the first time, customers in California will also be able to experience a VF 8 ride-along at the test track area at the LA Auto Show. The activity affirms VinFasts rapid development of the VF 8 production vehicle from when it debuted as a show car at the LA Auto Show 2021.
---
Information Source: Read More "
Energy Monitors | Electric Power | Natural Gas | Oil | Climate | Renewable | Wind | Transition | LPG | Solar | Electric | Biomass | Sustainability | Oil Price | Electric Vehicles|Commodities | Shipping|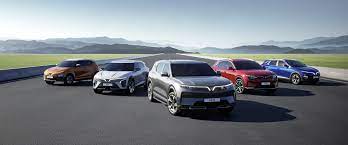 ---
At the LA Auto Show 2022, VinFast unveils the interior and exterior details of two electric SUVs – the VF 6 and VF 7 – designed by Torino Design. Along with the VF 8 and VF 9 launched in 2021, to date, VinFast has introduced 4 electric SUV models in North America, covering the 4 most popular segments on the market.
VF 6 and VF 7 bring a surprising level of advanced technology in a modern, spacious interior experience, and stylish, sophisticated designs co-crafted by VinFast and Torino Design, the famous Italian design house.
The midsize VF 7 combines dynamic, avant-garde exterior styling with a modern, driver-oriented and tech-forward cabin experience. The dramatic shape of the VF 7 is highlighted by a signature front light bar with animated LED effects, a dramatically low cowl and a muscular rear stance featuring bold fender accents punctuated by rear signature lights.
The VF 6 is an attractive choice for those looking for a smaller electric crossover with a technologically advanced EV experience. With the typical design details of VinFast, VF 6 has sophisticated styling rarely seen in the B segment. Its modern, spacious interior layout with entertainment features integrated into the large, centrally mounted touchscreen interface brings a sophisticated and complete driving experience that is usually only found in luxury models. Read More "