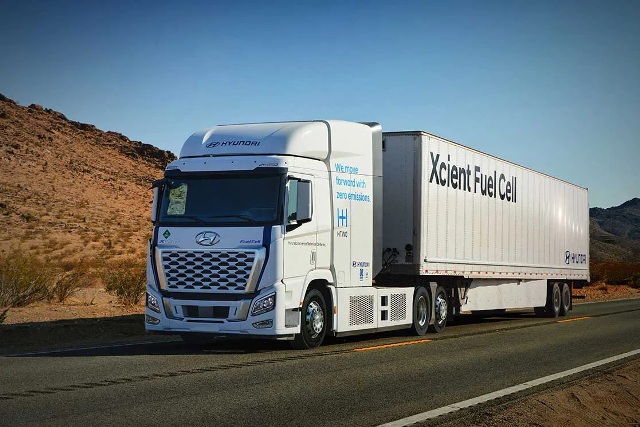 Hyundai to Expand into U.S. Market with Hydrogen-powered XCIENT Fuel Cells at ACT Expo
Hyundai Motor Company emphasized its plan to ramp up the U.S. commercial vehicle market entry with XCIENT Fuel Cell trucks at the 2022 Advanced Clean Transportation (ACT) Expo.
At the ACT Expo, the largest advanced transportation technology and clean fleet event, Hyundai Motor will share the progress of the NorCAL ZERO Project. Through the project, also known as Zero-Emission Regional Truck Operations with Fuel Cell Electric Truck, Hyundai Motor will deploy 30 Class 8 6×4 XCIENT Fuel Cell heavy-duty tractors at the Port of Oakland, Calif., in 2023.

The company also will take part in the Hydrogen Workshop panel discussion during the ACT Conference. Hosted under the theme, 'Coming Around the Corner, Hydrogen Fuel Cell Vehicles,' panelists will talk about the challenges and prospects of the hydrogen fuel cell electric vehicle market as well as policies and business plans. As part of the panel, Mark Freymueller, Senior Vice President and Head of Commercial Vehicle Business Innovation at Hyundai Motor Company, will talk about the company's sustainable mobility solutions and business cases with other panelists.
---
Information Source: Read More
ENERGY | ELECTRIC POWER | NATURAL GAS | AUTOMOTIVE | CLIMATE | RENEWABLE | WIND | TRANSITION | LPG | OIL & GAS | SOLAR | ELECTRIC VEHICLES| BIOMASS | SUSTAINABILITY | OIL PRICE |