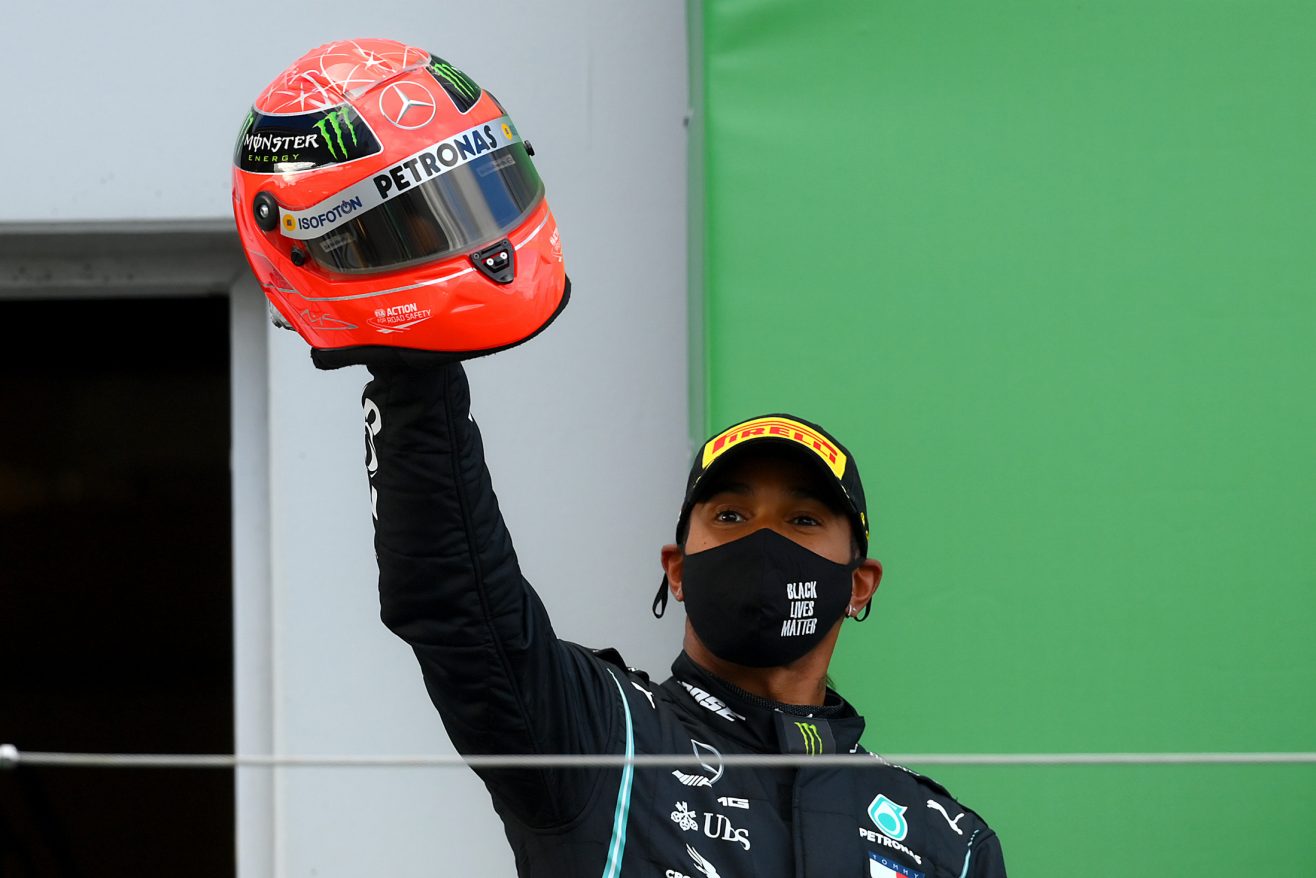 Lewis Hamilton equals Michael Schumacher record
The Mercedes driver's win was the 91st of his career
He equalled Schumacher's all-time record for career Formula 1 victories by winning the Eifel Grand Prix.
Schumacher's son Mick presented him with one of his father's old helmets, from his last F1 season with Mercedes in 2012, to recognise the achievement.
---
Results
Lewis HAMILTON (Mercedes),
Max VERSTAPPEN (Red Bull),
Daniel RICCIARDO (Renault)
---
PRESS CONFERENCE / Track Interviews (Conducted by David Coulthard)
Q: Lewis, many congratulations. That was a tight fight with Max but in the end an emphatic victory, drawing you level on 91 wins with Michael Schumacher. You've had a few minutes for it to sink it. Can you describe your emotions please?
---

LH: It's definitely not sunk in, that's for sure. I don't know how it is for other drivers when they have these wins but it takes some time for you to analyse it and for it to sink in, to realise what it actually means. But like all of us, I grew up watching Michael win all of those grands prix and I couldn't have fathomed equalling him. I think getting to Formula 1 was the first step of the dream and obviously emulating Ayrton. But Michael was just so far ahead. It's beyond my wildest dreams to think that I'm here today having equalled him and I just feel really humbled by the moment and the opportunity I was given when I was 13 by Mercedes to join this team and I feel really proud to continue to represent them and to have brought this record to Mercedes. Hopefully we have got more records to break and to make. Hopefully they know it was a good investment!
---
Q: You've been given one of Michael's race helmets from 2012. Can you give us some thoughts on him as a driver and on his place in the sport?
---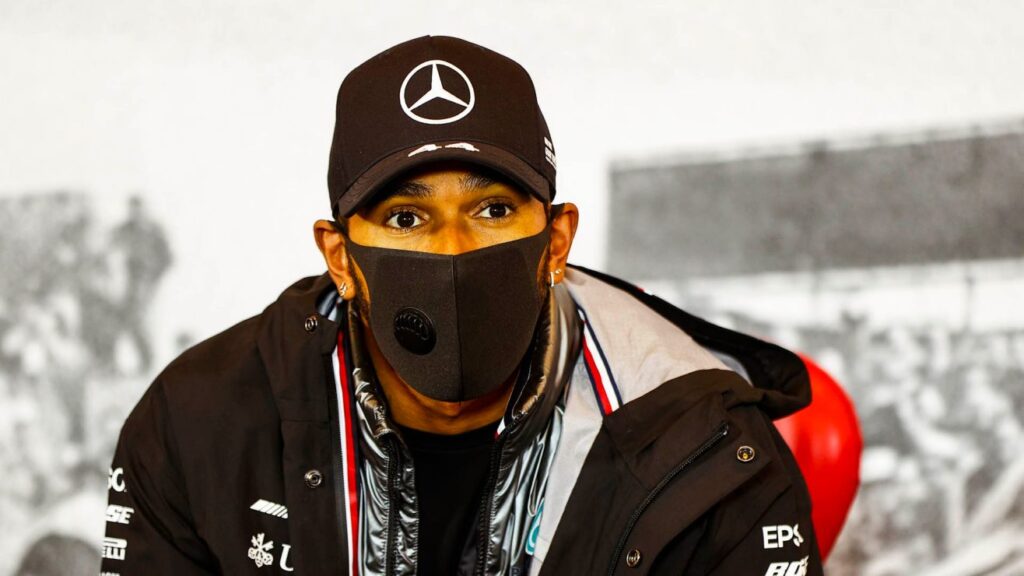 LH: Naturally everyone knows that he is a legend and an icon of the sport. I think what he achieved in so many areas but your know pushing the limit in terms of the physicality side, he really was a pioneer in being the fittest driver at the time, and what he did at both the teams he was at, particularly Ferrari, was just remarkable. I think for me, that number is so big it's hard for people to, when it's so far away, it's hard for people to perhaps fully understand how hard it was for him to have got those 91 wins, to deliver weekend in weekend out, year on year on year, and stay so physically in shape and so precise. I understand that now more than ever. I can only tell you that it doesn't get easier. From you first win to your 91st I'm telling you it's been a long hard run. I've got great drivers around me who I'm enjoying racing. I'm hope that it's closer between us moving… Daniel did a great job, but Max drove exceptionally well also today and applied so much pressure. But Michael is and always will be a legend of the sport and I feel very humbled to have one of his helmets and honoured.
---
Q: Thank you Lewis. Max, your fifth second place of the season, just how pleased are you with the performance today?
MV: Yeah, it was good. I tried to follow Lewis around the whole race. I think he was a bit faster the whole race but from our side overall it was a positive weekend, so very pleased with that. You just keep on working to try to close the gap further.
Q: Do you feel Red Bull are closer to Mercedes now?
MV: It felt… yeah we brought new parts to the car so the car definitely improved. So yeah, we'll try and keep learning more about it because, of course, the weekend was a bit shorter than expected and we'll try to improve further and, of course, the next race we can try it all over again.
Information Source: Read More…..
---
Submitted by: Press release
---
Please email us your industry related news for publication [email protected]
Follow us: @OilAndGasPress on Twitter | OilAndGasPress on Facebook
---
Disclaimer
Most News articles reported on OilAndGasPress are a reflection of what is published in the media. OilAndGasPress is not in a position to verify the accuracy of daily news articles. The materials provided are for informational and educational purposes only and are not intended to provide tax, legal, or investment advice. OilAndGasPress welcomes all viewpoints. Should you wish to provide a different perspective on the above article, please email us [email protected]