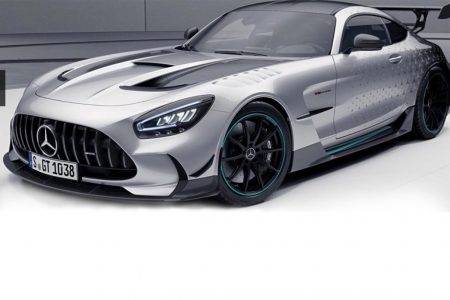 Mercedes-AMG GT Black Series
A twin-turbocharged 4.0-liter V8 with a flat-plane crank churning out 720 hp and 590 lb-ft (800 Nm) of torque, all of which is funneled to the rear wheels through a seven-speed dual-clutch transmission.  It accelerates from 0 to 100 km/h in 3.2 seconds and reaches 325 km/h. The price of 385,240 euro is 50,000 euros above that of the standard Mercedes-AMG GT Black Series. 
Well-known Mercedes SLR McLaren model collector and real estate mogul Manny Khoshbin has taken delivery of the limited edition Mercedes-AMG GT Black Series P One Edition, as one of 275 customers waiting for the delayed Mercedes-AMG One.
---
Information Source: Read More
Oil and gas, press , | Energy, Climate, Renewable, Wind, Biomass, Sustainability, Oil Price, LPG, Solar, Electric,