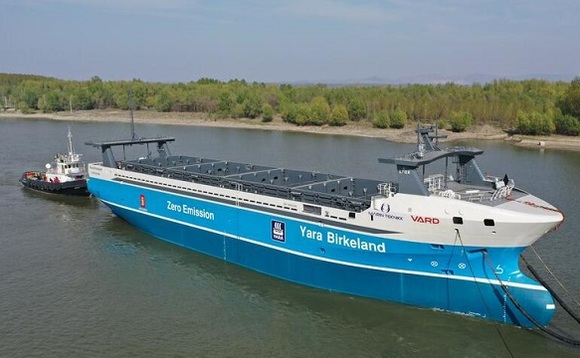 Crewless, fully electric cargo ship to set sail
World's first fully autonomous and electric cargo ship will launch on its first commercial operation later this year, which if successful could transform the highly-polluting shipping industry.
---
The MV Yara Birkeland will travel between two Norwegian towns – Herøya and Brevik –without any crew onboard, carrying freight that would usually be carried by land according to media reports.
The vessel will replace 40,000 lorry journeys a year, according to its operators, as well as significantly reduce NOx and CO2 emissions.
---
Named "Yara Birkeland" after Yara's founder, the famous scientist and innovator Kristian Birkeland, the vessel is the world's first fully electric container feeder.
The ship is 70m long and 14m wide, able to carry sixty 40′ shipping containers. It features a 7 MWh battery capacity to power two 900 kW Azipull pods and two 700 kW tunnel thrusters, delivering a top speed of 13 knots.
---
Information Source: Read More abou Yara–>
---
Oilandgaspress.com | Energy, Climate, Renewable, Wind, Biomass, Sustainability, Oil Price, LPG, Solar