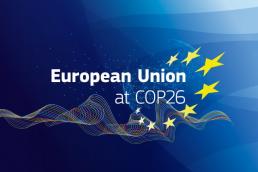 COP26 Climate Change Conference
 1 to 12 November 2021 in Glasgow
The 2021 UN climate change conference (COP26) is scheduled to take place from 1 to 12 November 2021 in Glasgow, under the incoming presidency of the UK. The EU and its Member States will take part as Parties to the UN Framework Convention on Climate Change (UNFCCC).
---
The annual Conference of the Parties (COP) to the UNFCCC brings together governments from around the world to agree coordinated action to tackle climate change. The conference is also a space for governments, businesses, local authorities and civil society to discuss and showcase climate action.
This year, the EU Pavilion programme is planned to include both physical side events in Glasgow and digital side events. All events will be accessible through an online platform to reach out to broader audiences around the globe and allow enhanced virtual participation, as well as anticipate potential sanitary limitations.