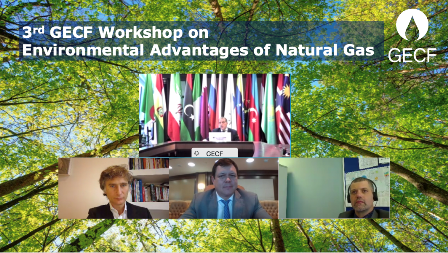 GECF 3rd annual Workshop on Environmental Advantage of Natural Gas
As the world gets increasingly committed to limiting global warming to well below 2C degrees, the success of various initiatives to decarbonise natural gas will be key to ensure that this fastest growing and the cleanest hydrocarbon fuel remains prevailing in the future energy mix, participants of a recently-held Workshop on Environmental Advantages of Natural Gas heard.
---
Organised by the Gas Exporting Countries Forum (GECF), the 3rd annual edition of the workshop was held virtually and in the backdrop of COVID-19 pandemic when countries are juxtaposing between the need to restore economies and implement environmental safeguards. Increasing the number of participants. The importance of environmental protection in energy systems was evident in the workshop's size, whose participants have been increasing in numbers since the first edition.
---
The event was opened by the Secretary General of the Forum, HE Yury Sentyurin, who outlined the ongoing efforts of the GECF Secretariat to monitor climate actions and initiatives, assess their impact on energy and gas markets and highlight the inherent features of natural gas that make this energy source compatible with the UN Sustainable Development Goals and Paris Agreement provisions. The GECF is working with the most reputable international institutions such as the UNFCCC, UNECE, UNESCO, G20, BRICS in a broad dialogue on the essential role of natural gas in achieving the ambitious targets.
---
According to him, the COVID-19 pandemic has triggered a large debate on the energy and climate policy orientations that will unfold in the future. "The world hopes to maintain emissions on a decreasing trend through sustainable means with activities running and economic prosperity on track. That is where natural gas is supporting nations globally."
"Although there is a consensus around the need to achieve a transition towards more efficient, less carbon-intensive and sustainable energy systems, countries need to consider energy options that allow for achieving the appropriate balance between environmental and climate-related commitments on one side, and social and economic progress on the other side," added HE Sentyurin.
---
The welcoming remarks were followed by Head of the GECF's Energy Economics and Forecasting Department, Mr Dmitry Sokolov, who presented the prospects for energy-related CO2 emissions in the 2020 edition of the Global Gas Outlook 2050. This landmark annual publication is based on the most comprehensive modelling tool available today – the GECF Global Gas Model – and allows the Secretariat to provide energy balances with a full forecast on energy-related emissions for all energy sectors up to 2050
---
Information Source: Read Full Release ..
---
Press release by: p.r@gecf.org
---
Report by: OGP/Segun Cole , Please email us your industry related news for publication info@OilAndGasPress.com
Follow us: @OilAndGasPress on Twitter | OilAndGasPress on Facebook