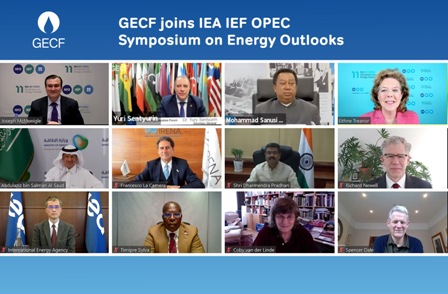 GECF joins IEA-IEF-OPEC Symposium on Energy Outlooks
Despite the pandemic, the Gas Exporting Countries Forum (GECF) Members have displayed outstanding discipline and resilience in the uninterrupted fulfilment of their obligations towards all contracting parties, HE Yury Sentyurin, Forum's Secretary General today said at the annual IEA-IEF-OPEC Symposium on Energy Outlooks.
---
The 11th IEA-IEF-OPEC Symposium was hosted by its permanent sides – the International Energy Agency (IEA), the International Energy Forum (IEF) and the Organisation of the Petroleum Exporting Countries (OPEC) – with participation of the GECF as a programme partner and examined the shock of the COVID-19 pandemic on energy markets and the outlook for global energy security and market stability.
---
"It is too early to write off hydrocarbons. They will remain the dominating source in the global energy mix for the foreseeable future. Natural gas will even increase its share from 23% today to 28% in 2050," said HE Sentyurin.
---
Citing the GECF's Global Gas Outlook 2050, the latest edition of which will be launched soon, the spokesperson of the leading gas producers in the world said that the GECF forecasts global primary energy demand to expand by 24% by 2050. This is based on the revised GDP growth expectations related to COVID-19 economic contractions.
---
"GECF underscores the importance of fair value for natural gas to ensure sufficient investments through the entire gas value-chain and the necessity for equitable risk-sharing among all gas market stakeholders to sustain the security of demand and natural gas supply."
---
Featured speakers at the Symposium included HRH Prince Abdulaziz bin Salman Al Saud, Minister of Energy of Saudi Arabia; HE Dharmendra Pradhan, Minister of Petroleum, Natural Gas and Steel of India, HE Timipre Sylva, Minister of State for Petroleum Resources of Nigeria; IEF Secretary General Joseph McMonigle; IEA Executive Director Fatih Birol; OPEC Secretary General Mohammad Sanusi Barkindo; IRENA Director-General Francesco La Camera, Vicki Hollub, CEO Occidental Petroleum; Felipe Bayon, CEO Ecopetrol; and Spencer Dale, Group Chief Economist at BP.
Hosted by the IEF, the symposium reviewed the IEA's, OPEC's, and GECF's short-, medium- and long-term outlooks, which are analysed in the newly released IEF-RFF Outlooks Comparison Report. Produced by the IEF and Resources For the Future (RFF), the report highlights a reset in energy outlooks after the biggest demand shock in history.
---
"The pandemic's impact on energy demand is unparalleled in the history of energy markets," said IEF Secretary General Joseph McMonigle. "The symposium explored what government policies and industry responses are necessary to safeguard the long-term stability of energy markets."
Information Source: Read Full Release ..–>
---
Press release by: