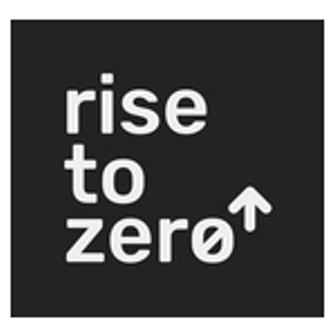 Canadian Organization Shifting Social and Business Norms to Accelerate Decarbonization
Rise to Zero helps reframe climate change, engage employees and accelerate climate action
TORONTO–(BUSINESS WIRE)–#carbonspotlightreport–The race is on to eliminate emissions. While many businesses are working towards operating in a climate-compatible manner, others have not recognized the widespread impacts of a warming climate on their businesses and business models, let alone support industry-wide conversations about strategic climate change mitigation.
Business leaders are unsure how to move forward and need support with employee engagement and change management to ensure sustainability is not treated as an afterthought. Moreover, the COVID-19 crisis has highlighted the importance of a deep understanding of supply chains and the potential risks that external pressures, such as a rapidly changing climate, create for businesses.
Now is the time for businesses to begin or accelerate their climate journey: Rise to Zero was founded to help organizations advance business goals while reducing climate impact. Although actions to reduce climate impacts must be accelerated, more alarming information is not needed to help move people forward.
"I have spent over 20 years in marketing and advertising, simplifying complex concepts and translating human insights into messages that people can get behind. I founded Rise to Zero with the intention to bring that expertise to help more business leaders, and more individuals move forward and take decisive action to address the climate impacts of their businesses." – Michael Szego, Founder, Rise to Zero.
Decarbonization is an urgent business and social priority – our ecosystem has sustained substantial damage as a result of the overconsumption of natural resources. In an effort to encourage transparency and create benchmarks, Rise to Zero has launched the Carbon Spotlight Report, directing attention to the carbon impact of key business sectors and organizations' efforts to reduce emissions.
"Awareness is at the heart of climate action. Transparent measurement and reporting at the company level is the starting point to support strategic climate action and carbon reduction. Allowing employees, partners, investors and customers to be better informed is critical if we are going to see the transformative changes needed to stay below 1.5C temperature increase." – Kristy O'Leary, Co-founder of Decade Impact – one of Canada's premier Impact Consulting firms.
Rise to Zero has analyzed the emissions of nine major grocery retailers (Tesco, Walmart, Loblaws, and Sobeys, to name a few), selected based on their size, stature, and regional prominence. The sheer size of these retailers means they have a significant impact on the environment, through powering their stores and distribution centers, operating transport and delivery vehicles, producing products and handling their waste.
The Carbon Spotlight Report: Grocery Retail is the first industry sector deep dive, and the first report of its kind, sourcing data from a range of publicly accessible sources that have never before been published in a single, comparative format.
View the report: The Carbon Spotlight Report
"There are clear market signals highlighting the urgency of reducing carbon emissions, including the Canadian federal government's plan to reduce GHG emissions by 40% below 2005 levels by 2030. Electrification is one of the key steps to decarbonizing supply chains and curbing the worst impacts of climate change." – Nino Di Cara, President of Electric Autonomy Canada – the leading publisher of news on the electrification of the transportation sector in Canada.
According to a global study from Pew Research Centre, 80% of people are willing to make changes to how they live and work to reduce the effects of global climate change.
Now more than ever, collaboration between companies and their suppliers is crucial when it comes to understanding climate risks and opportunities. This is critical to building inclusive, climate-compatible and transparent global supply chains.
To learn more about how Rise to Zero helps organizations advance business goals and reduce climate impact, visit: risetozero.co.
About Rise to Zero:
Rise to Zero is a social impact organization helping organizations advance business goals while reducing climate impacts. Through thought-provoking content, narrative and identity projects, and advisory services, Rise to Zero aims to mobilize individuals, businesses, and governments to take urgent action towards rapid emissions reductions.
Contacts
For Information on Rise to Zero:
Michael Szego, Founder
For Media Inquiries:
Jay Sachdev
jay@breathepurposemedia.com
647-203-3595