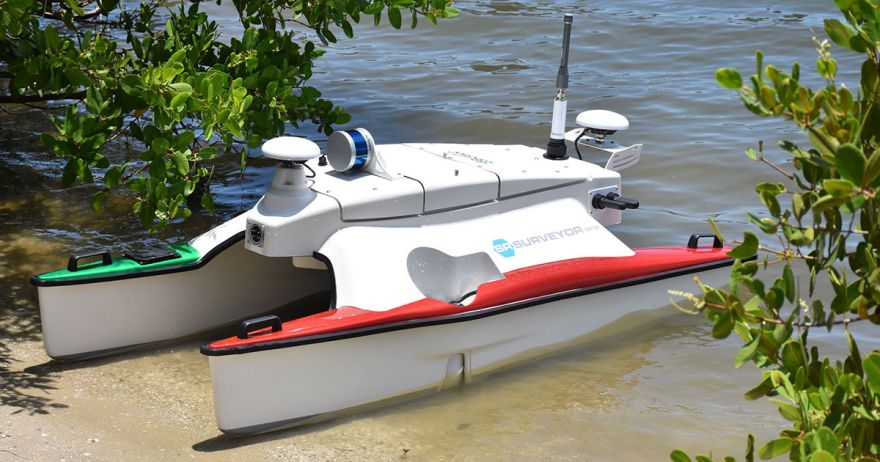 Autonomous Surface Vehicles (ASVs)
SeaRobotics, announced the successful deployment of their SR-Surveyor M1.8 ASV in cooperation with Morgan & Eklund (M&E), a Florida based land and hydrographic survey firm, to safely survey a twenty-mile stretch of waterways in the hard-hit islands of the Bahamas.
---
The SR-Surveyor M1.8 has closely coupled multiple sensors on board and has the ability to collect side-scan sonar, multibeam sonar, and lidar data simultaneously. The optimized sensor suite (EdgeTech 2205, Velodyne PUCK, SonTek M9, and AML MicroSV) provided accurate data and detailed images of the condition of the waterways, which are crucial to the success of the ongoing recovery effort.
---
"We designed the SR-Surveyor M1.8 to excel at working in hurricane and storm-damaged areas, without putting manned vessels in harm's way. The SR-Surveyor M1.8 is portable, which is key in difficult to reach areas due to downed trees, submerged vessels and debris limiting access to launch areas," said Don Darling, President of SeaRobotics. "High-quality data is also critical to recovery efforts — they need an accurate picture of the underwater environment to do their jobs safely and effectively."
Source / More information : SeaRobotics
---
Okeanus Science & Technology (Okeanus), a provider of oceanographic rental equipment and turnkey survey systems, has announced a new partnership with SeaRobotics Corporation, a leading developer of unmanned marine systems, in a move to make Autonomous Surface Vehicles (ASVs) increasingly available for international rental
---
Report by: OGP/Segun Cole
Please email us your industry related news for publication info@OilAndGasPress.com
Follow us: @OilAndGasPress on Twitter | OilAndGasPress on Facebook
Disclaimer
Most News articles reported on OilAndGasPress are a reflection of what is published in the media. OilAndGasPress is not in a position to verify the accuracy of daily news articles. The materials provided are for informational and educational purposes only and are not intended to provide tax, legal, or investment advice. OilAndGasPress welcomes all viewpoints. Should you wish to provide a different perspective on the above article, please email us info@OilAndGasPress.com