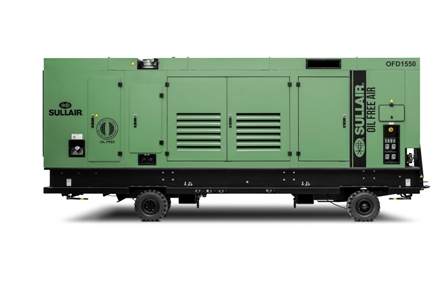 Tier 3 OFD1550 Oil Free Portable Air Compressor
Sullair, an industry leader in innovative compressed air solutions since 1965, today introduced its Tier 3 OFD1550 oil free portable air compressor. The portable compressor delivers ISO 8573.1 Class 0 oil free air wherever users need it—plantside, refineryside or at the jobsite.
---
The Tier 3 OFD1550 portable air compressor represents the latest solution in the expanding Sullair oil free portfolio. As more users seek options for sensitive compressed air needs – including pharmaceuticals, refineries/petrochemical, food and beverage, electronics, pipelines, power plants and more – products are needed for dedicated oil free plant air and back-up oil free air.
---
The Tier 3 OFD1550 includes several additional features – many based on direct voice of customer feedback – to help ensure versatile operations and maximum uptime, including:
State-of-the-art 7" Sullair touch screen controller providing all compressor and engine operation data at the touch of a finger
Ability to operate at high altitudes of up to 12,000 ft (3,658 m) above sea level
Ease of serviceability and large access doors for easy cooler cleaning
Sullair AirLinx® remote monitoring and telematics
110% fluid containment to meet standards in environmentally sensitive areas
Optional Refinery Package, including anti-static belt, non-metallic fan, and spark arrestor
Optional Cold Weather Package allowing operation at temperatures as low as -20°F (-29°C)
---
Information Source: Read Full Release ..
---
Press release by: