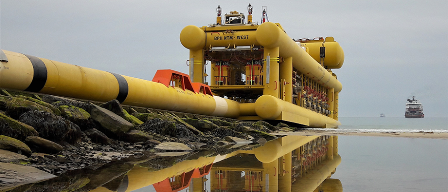 Subsea 7 successfully install 5km Pipeline Bundle in Buzzard field
Subsea 7's 88th Pipeline Bundle in 40 years is now in the Buzzard field ready to link the new northern area wells back to the existing platform.
Subsea 7 was awarded the contract in 2018 for the project management, engineering, procurement, construction and installation of the Bundle, along with associated well and platform tie-ins.
---
Bundle technology is an ideal fit for this project. It provides all subsea production, water injection and gas lift flowlines, as well as control functions and end manifolds in a single integrated system, which is fully fabricated and tested onshore. The BPII Bundle system also incorporates a large drill centre manifold (36m long and 300 tonnes), allowing for up to 12 wells to be tied-in.
---
Fabricated and launched from Subsea 7's Wester fabrication site near Wick, Scotland, the complete 5,500 tonne system was towed 150km to the Buzzard field using a specialised mid-depth tow method.
---
Information Source: Read More…..