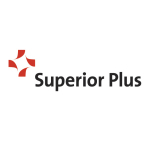 Superior Plus Announces Closing of $288 Million Bought Deal Equity Offering
TORONTO–(BUSINESS WIRE)–Superior Plus Corp. ("Superior") (TSX: SPB) is pleased to announce the successful closing of its previously announced bought deal equity offering of 25,670,300 common shares ("Shares") at a price of $11.20 per Share (the "Offering Price"), for aggregate gross proceeds of approximately $288 million (the "Offering"). The Offering included 3,348,300 Shares issued pursuant to the exercise in full by the underwriters of their over-allotment option.
The Offering was sold on a bought deal basis to a syndicate of underwriters bookrun by CIBC Capital Markets, and including National Bank Financial Inc., RBC Dominion Securities Inc., BMO Nesbitt Burns Inc., Scotia Capital Inc., TD Securities Inc., Desjardins Securities Inc., Canaccord Genuity Corp., Raymond James Ltd., ATB Capital Markets Inc., Cormark Securities Inc. and iA Private Wealth Inc. Brookfield, one of Superior's largest investors, participated as an anchor investor in the Offering and purchased approximately $75 million in Shares at the Offering Price through its Special Investments program.
The Offering was made under Superior's short form base shelf prospectus dated May 25, 2021. The terms of the Offering are described in a prospectus supplement dated March 30, 2022, which was filed with securities regulators in each of the provinces and territories of Canada.
Superior intends to use the net proceeds of the Offering to reduce existing indebtedness and for general corporate purposes, including to fund future acquisitions.
This press release is not an offer of the securities for sale in the United States. The securities may not be offered or sold in the United States absent registration or an available exemption from the registration requirements of the U.S. Securities Act of 1933, as amended and applicable U.S. state securities laws. This press release shall not constitute an offer to sell or the solicitation of an offer to buy, nor shall there be any sale of these securities, in any jurisdiction in which such offer, solicitation or sale would be unlawful.
About the Corporation
Superior is a leading North American distributor and marketer of propane and distillates and related products and services, servicing over 890,000 customer locations in the U.S. and Canada.
For further information about Superior, please visit our website at: www.superiorplus.com or contact: Beth Summers, Executive Vice President and Chief Financial Officer, Tel: (416) 340-6015, or Rob Dorran, Vice President, Capital Markets, Tel: (416) 340-6003, E-mail: investor-relations@superiorplus.com, Toll Free: 1-866-490-PLUS (7587).
---
Forward Looking Information
This news release contains certain forward-looking information and statements that are based on Superior's current expectations, estimates, projections and assumptions in light of its experience and its perception of historical trends. In this news release, such forward-looking information and statements can be identified by terminology such as "approximately," "anticipated," "will," "intends," and similar expressions. In particular, this news release contains forward-looking statements with respect to the use of the net proceeds of the Offering.
Forward-looking information is not a guarantee of future performance. By its very nature, forward-looking information involves inherent assumptions, risks and uncertainties, both general and specific, and risks that predictions, forecasts, projections and other forward-looking information will not be achieved, including risks relating to the operating and financial performance of the Energy Distribution business which are described in Superior's management's discussion and analysis for the year ended December 31, 2021 and in Superior's annual information form for the fiscal year ended December 31, 2021. Key assumptions or risk factors to the forward-looking information include, but are not limited to, the rate and size of future acquisitions, financial market conditions, Superior's future debt levels, Superior's ability to generate sufficient cash flows from operations to meet its current and future obligations, access to, and terms of, future sources of funding for Superior's capital expenditures and acquisitions, the integration of businesses into Superior's operations, competitive action by other companies, availability and timing of acquisition targets, actions by governmental authorities including increases in taxes and changes in environmental and other regulations, general economic, market and business conditions, accuracy of and ability to realize estimated synergies, timing to achieve synergies and the regulatory framework that governs the operations of Superior's business and industry capacity. Should one or more of these risks and uncertainties materialize, or should assumptions described above prove incorrect, Superior's actual performance and results in future periods may differ materially from any projections of future performance or results expressed or implied by such forward-looking information. We caution readers not to place undue reliance on this information as a number of important factors could cause the actual results to differ materially from the beliefs, plans, objectives, expectations and anticipations, estimates and intentions expressed in such forward-looking information.
Forward-looking information contained in this news release is provided for the purpose of providing information about management's goals, plans and range of expectations for the future and may not be appropriate for other purposes. Any forward-looking information is made as of the date hereof and, except as required by law, Superior does not undertake any obligation to publicly update or revise such information to reflect new information, subsequent or otherwise.
NOT FOR DISTRIBUTION TO UNITED STATES NEWSWIRE SERVICES OR FOR DISSEMINATION IN THE UNITED STATES
Contacts
Beth Summers
Executive Vice President and Chief Financial Officer
Tel: (416) 340-6015
Rob Dorran
Vice President, Capital Markets
Tel: (416) 340-6003
E-mail: investor-relations@superiorplus.com
Toll Free: 1-866-490-PLUS (7587)