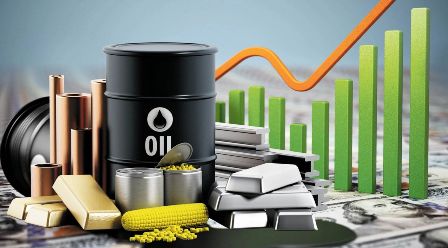 WCU: It's too soon to price out a war premium in commodities
The commodity sector remains in flux with multiple drivers making it increasingly difficult to navigate. The phenomenal surge across key commodities since Russia invaded Ukraine more than three weeks ago did fade this past week with the market focus being ongoing, but so far fruitless, peace talks between Russia and Ukraine, the first of several US rate hikes together with China pledging support for the economy.
The commodity sector remains in flux with multiple drivers making it increasingly difficult to navigate. The phenomenal surge across key commodities since Russia invaded Ukraine more than three weeks ago did fade this past week, with the most notable being crude oil which temporarily dipped below $100 per barrel, thereby concluding an 85-dollar roundtrip and in the process removing most of the war premium. Ongoing, but so far fruitless, peace talks between Russia and Ukraine, the first of several US rate hikes together with China's Vice Premier pledging support for the economy all supported a continued rise in volatility across the commodity sector.
---
Commodities, with a few exceptions, have rallied strongly since President Putin ordered the attack on Ukraine, thereby triggering a change in the market from worrying about tight supply to actually seeing supply disappear. With Russia being the second biggest supplier of raw materials to the global economy, we are currently witnessing some historic moves with Russia's growing isolation and self-sanctioning by the international community cutting a major supply line of energy, metals and crops. Developments that before seeing the commodity sector heading for a weekly decline had triggered some historic moves in terms of prices reached and price ranges travelled.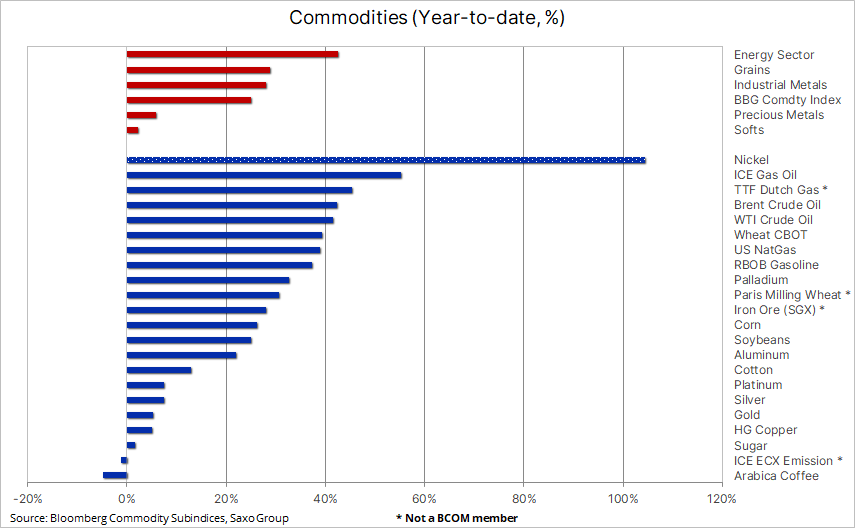 Note: The LME nickel performance does not reflect the current value which is around 20% lower. The market reopened this week after having been forced shut for more than a week. But daily limits have prevented the market from falling to levels that is being reflected by the futures market in Shanghai, currently to only source for price discovery.

Following some historic moves and levels reached in the immediate aftermath of the invasion, the Bloomberg Commodity Index, which tracks 24 major commodity futures, evenly split between energy, metals and agriculture, traded a bit softer this past week as the initial position adjustment and panicky reactions faded. However, despite seeing some of the markets retreat, the index is still up more than 25% this year and thereby already exceeding last year which was the strongest year for the sector since 2000.
Brent crude oil completed a historic three-week 85-dollar roundtrip which took the price from around $97 to $139 and back, thereby returning to pre-war levels. The correction from a near 14-year high was driven by Russia/Ukraine talks and a temporary Covid-related drop in Chinese demand, and traders reducing positions due to extreme volatility. The weakness in our opinion may prove premature, with lower supplies from Russia increasingly being felt over the coming weeks, more than offsetting any temporary Covid-related slowdown in Chinese demand. The beginning of the US rate hike cycle, however, will add to global growth concerns which despite several months of supply shortfalls may prevent a renewed spike in oil prices towards the recent high, but with the risk premium almost removed the market will be left vulnerable to any deterioration in the Russia-Ukraine situation.
---
The IEA in their latest monthly Oil Market Report, highlighted the two-way risk to oil prices with surging commodity prices and international sanctions levied against Russia likely to lower global economic growth. On that basis they lowered their forecast for world oil consumption this year by 1.3 million barrels per day, the bulk coming from a drop in Russian demand as the economy collapses to Soviet-era levels, while current lockdowns in China will also lower the temperature on demand. However, against this the prospect of large-scale disruptions to Russian oil production remains a threat, and one that according to the IEA may create a global oil supply shock.
Russia has increasingly been left isolated with demand for its oil falling, mostly due to self-sanctioning from Western oil traders. The best gauge for watching this development is Russian Urals which this past week almost traded at a 30-dollar discount to Brent crude. Given Russia's limited ability to store unwanted oil, the IEA very pessimistically estimated that from April some 3 million barrels per day of Russian production could be shut in. If realised, the price of oil and especially products like gasoline and diesel would be forced higher to the point where demand destruction kicks in and lower demand by more than is currently being projected.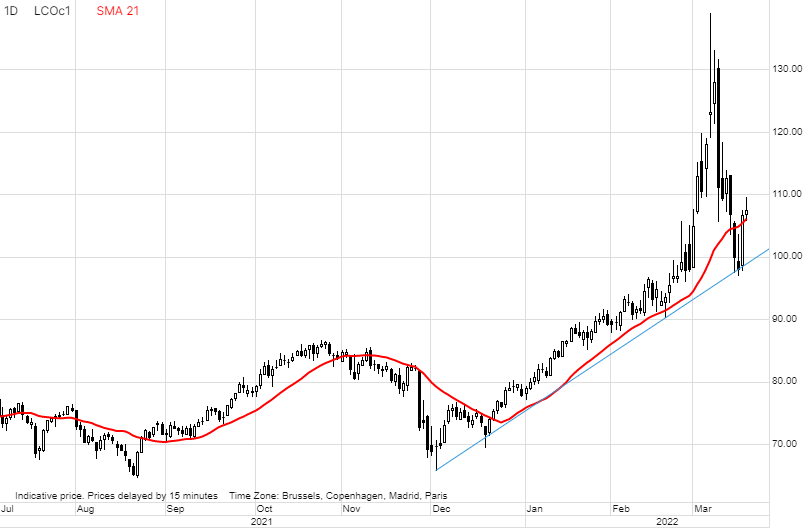 The European gas market traded lower in line with other commodities with the drop being supported by no sizable reductions in Russian gas flows and the emergence of spring and weaker heating demand. The spot price reverted lower to trade near €100 per MWh, a 70% collapse from the panic peak on March 7 when the price briefly touched a record €345 per MWh, the equivalent of $630 per barrel of crude oil. In general, the European gas market is in better shape than feared at the start of the year after a mild winter and a flood of US LNG shipments helping boost supplies, thereby avoiding a feared storage depletion. The outlook for next winter, however, remains challenging with the October to winter futures contract trading just below €95 per MWh, a level that points to a continued and prolonged challenge for heavy energy consuming industries.
Gold, just like most other commodities, reversed lower after hitting a panic peak a few dollars below the 2020 record high at $2074. A combination of lower oil prices, the best gauge for geopolitical risks right now and jitters ahead of the FOMC meeting on Wednesday helped trigger a 175-dollar correction until key support was found just below $1900 per ounce. The market then bounced after the FOMC finally began its long-awaited rate hike cycle, and while the stock market rose in response to Fed Chair Powell's optimistic view on growth, the bullion market received a bid on worries that the Fed will struggle to curb inflation without risking a major slowdown.
---
Long liquidation from leveraged funds who had loaded up on gold futures in recent weeks may have run its course, while longer-term focused investors have been continued buyers of gold ETFs since the war began. During this time, total holdings have jumped by 122 tons to a one-year high at 3,236 tons, and it is worth noting that half of the increase occurred during the mentioned correction.
We maintain our bullish outlook in the belief inflation will remain elevated while central banks may struggle to slam the brakes on hard enough amid the risk of an economic slowdown. We believe the Russia-Ukraine crisis will continue to support the prospect for higher precious metal prices, not only due to a potential short-term safe-haven bid which will ebb and flow, but more importantly due to what this tension will mean for inflation which is likely to remain persistently high as global growth slows, thereby eventually forcing central banks, especially the US Federal Reserve, to abandon further rate hikes and instead revert to a period of renewed stimulus.
In such a scenario, we see further upside to gold and especially silver, given our belief in higher industrial metal prices, especially copper. Gold already up 6% in dollar terms and 9.5% in euro terms versus a 7.5% drop in the S&P 500 and the MSCI World index has already, despite headwind from rising real yields, shown its diversification credentials. Key support at $1890/oz with a break above $1957 needed to signal fresh upside potential.
---
By Ole Hansen, Head of Commodity Strategy at Saxo Bank
Information Source: Read More
---
Submitted By: Ben Finnis, Greentarget.co.uk
Oil and gas, press , | Energy, Climate, Renewable, Wind, Biomass, Sustainability, Oil Price, LPG, Solar, Electric,