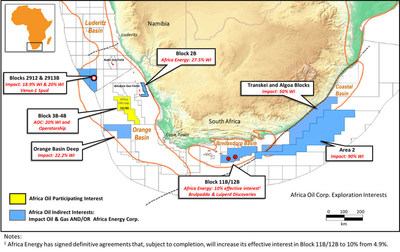 Africa Oil announce Results and Major Venus Light Oil Discovery
Africa Oil Corp. announced its financial and operating results for the three months ended March 31, 2022.
Highlights
Venus-1X exploration well makes a significant light oil discovery on Block 2913B, offshore Namibia. AOC has a 6.2% interest through its investment in Impact Oil and Gas Limited.
Q1 2022 net income of $45.6 million (Q1 2021: $38.9 million) and end of quarter cash balance of $140.6 million (December 31, 2021: $58.9 million).
The Company paid its maiden semi-annual dividend of $0.025 per share (approximately $11.9 million) to its shareholders. This is the initial step in delivering on the Company's commitment of returning capital to the shareholders.
The Corporate Facility was amended to provide the Company with a stand-by line of liquidity of $100.0 million, available for general corporate purposes, including acquisitions, until end 2022.
Prime drew down a further $150.0 million under its pre-export finance facility ("PXF Facility"), increasing the outstanding balance to $300.0 million and further extending the duration of its debt profile.
The Company received one dividend from its shareholding in Prime, totaling $100.0 million1.
Selected Prime's results net to Africa Oil's 50% shareholding*:
Average daily W.I. production of 25,400 boepd and economic entitlement production of 27,400 boepd (83% light and medium crude oil and 17% conventional natural gas) in Q1 2022 (Q1 2021: 26,200 boepd and 30,100 boepd respectively)3,4,5;
Cash position of $265.7 million and debt balance of $501.0 million at March 31, 2022; Robust Net Debt to EBITDAX6 for the twelve months ended March 31, 2022, of 0.4x (twelve months ended December 31, 2021: 0.4x);
in Q1 2022, EBITDAX6 of $122.2 million (Q1 2021: $143.4 million); and
in Q1 2022, cash generated from operating activities of $116.6 million (Q1 2021: $78.8 million)7.
---
Africa Oil President and CEO Keith Hill commented: "I am pleased to report another strong quarter of operating and financial results. We received our largest dividend payment from Prime to date for $100 million. This takes our total dividend receipts to $500 million since our acquisition of a 50% interest in Prime in January 2020 for $520 million. Also, our share of Prime's cash at end of first quarter 2022 of approximately $266 million, compares to about $70 million at the time of the acquisition. Prime's performance, that includes achieving positive reserves replacement ratios for the last two years, has exceeded all our expectations. However, I view the news of the Venus light oil discovery as the most important and exciting update in the first quarter of this year. Most immediately, we can look forward to the high-impact Venus appraisal drilling program and the Gazania exploration well, both of which are expected to commence later this year. We also have further prospectivity on Block 3B/4B, which we operate with a 20% interest and on Impact's Orange Basin Deep Block, both are in Orange Basin and on trend with the Venus discovery."
---
Information Source: Read More
ENERGY | ELECTRIC POWER | NATURAL GAS | AUTOMOTIVE | CLIMATE | RENEWABLE | WIND | TRANSITION | LPG | OIL & GAS | SOLAR | ELECTRIC VEHICLES| BIOMASS | SUSTAINABILITY | OIL PRICE |