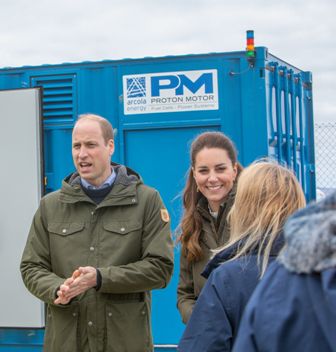 Duke and Duchess of Cambridge at Proton Motor's fuel cell power plant on Orkney
The Duke and Duchess of Cambridge visited the Orkney Islands of Scotland last week in pursuit of solutions for tackling climate change and supporting the UK's green economic recovery. Their Royal Highnesses visited the "European Marine Energy Centre" tidal test facility to hear about the test centre's role in developing an ocean energy industry and with pioneering green hydrogen deployments.
---
The royal couple also visited Kirkwall Harbour to see EMEC's hydrogen fuel cell, supplied by SHFCA member (Scottish Fuel Cell Association / "Proton Motor Fuel Cell GmbH" of Germany, which is designed to provide up to 75 kW of electric and thermal clean power to vessels berthed at Kirkwall Pier or for the harbour buildings. The Bavarianlocated cleantech expert Proton Motor successfully produced respectively delivered the climate-neutral hydrogen fuel cell system as containerized industrial power plant to Orkney in 2017.
---

This green hydrogen fuel cell manufactured by Proton Motor – a subsidiary of the Newcastle-based, with the green energy share "PPS" on the London Stock Exchange listed parent company "Proton Motor Power Systems plc" – allows ship engines to be switched off when in harbour, reducing noise and air pollution as well as achieving zero greenhouse gas emissions. The thermal power is also used for the heating of harbour buildings.
---
The royal couple viewed then the hydrogen tube trailers at Kirkwall Pier (manufactured by SHFCA member "Calvera" from Zaragoza), which are used to transport green hydrogen by ferry from the outlying islands to Kirkwall Harbour, where it is used for the Proton Motor hydrogen fuel cell at Kirkwall Pier. Maintenance support for the hydrogen fuel cell and the hydrogen trailer maintenance and recertification is provided by SHFCA member "Logan Energy ".
---
Information Source: Read Full Release ..–>

---
Submitted By: Ariane Günther, Head of Public Relations, Proton Motor Fuel Cell GmbH