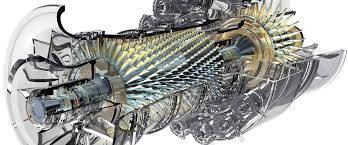 GE Aims to RAISE Combined Cycle Gas Turbine Efficiency
Aiming to set new records in gas turbine efficiency and accelerate efforts to decarbonize the energy sector, GE Research has been awarded a $1.6 million project through ARPA-E's ULtrahigh Temperature Impervious Materials Advancing Turbine Efficiency (ULTIMATE) program to develop transformational material solutions that enable new thresholds in turbine efficiency.
---
Advanced materials research has long been a critical piece of GE Research's technology portfolio, responsible for countless innovation breakthroughs over many decades to improve turbomachinery efficiency and performance in both the power generation and aviation industries.
---
Steady improvements have been made in both the temperature tolerance and durability of superalloys that in turn have enabled advances in power generation turbine and jet engine technologies. However, Akane Suzuki, a Principal Engineer at GE Research and project lead, says the material solutions being developed as part of this project could be a key enabler toward combined cycle gas turbine efficiency beyond 65%.
---
Suzuki noted that GE Research's approach doesn't rely on a single innovation, but several significant advances in the thermal coatings used to protect parts from heat and improve durability, the development of a new niobium (Nb)- based alloy for gas turbine blades that can withstand higher degrees of heat, and a scalable manufacturing process for producing internally cooled gas turbine blades.
Information Source: Read Full Release ..
---
Submitted by: Press release
Report by: OGP/Segun Cole , Please email us your industry related news for publication info@OilAndGasPress.com
Follow us: @OilAndGasPress on Twitter | OilAndGasPress on Facebook