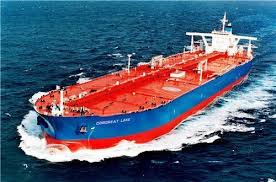 Naming and Delivery Ceremony for Mt. Yuan An Hu held in Guangzhou
Mt. Yuan An Hu is one of the latest generation of green, safe, energy-saving, and environmentally-friendly Ocean-to-River vessel type that is specially tailored for customers of the trade along Yangtze River combing the characteristics of domestic routes and customer needs, which demonstrates CSET's adherence to customer-oriented philosophy.
---
This ship type enables oil goes into the river directly without the need for two-way transshipment, which not only improves the ship's cargo capacity and transportation efficiency, saves a lot of logistics costs for customers, but also creates value for the Company's production and operation, and achieves a win-win cooperation.
---
Mt. Yuan An Hu stands for the 54th ship co-built by COSCO SHIPPING Energy and Guangzhou Shipbuilding International. As a crude oil tanker of 64,900 DWT, Mt. Yuan An Hu has the characteristics of large loading capacity and shallow draft. The total length of the hull is 224.9 meters, the width 35 meters, the depth 18.0 meters, the design speed is 14.5 knots, under the condition of 11.5 meters light draught, the same draft load has increased by more than 10% compared with the main Panamax model currently entering the Yangtze River.
---
The ship complies with the latest common HCSR structure specifications.
---
The cargo area meets the COT-PSPC. By optimizing the cargo compartment layout, the maximum capacity is achieved; the performance monitoring system that meets the requirements of i-Ship(E) is installed, which improves the shipowner's monitoring of ship performance and grasp of the ship's operation at a timely manner.
Source / More information : COSCO SHIPPING Energy
---
Report by: OGP/Segun Cole , Please email us your industry related news for publication info@OilAndGasPress.com
Follow us: @OilAndGasPress on Twitter | OilAndGasPress on Facebook
---
Disclaimer
Most News articles reported on OilAndGasPress are a reflection of what is published in the media. OilAndGasPress is not in a position to verify the accuracy of daily news articles. The materials provided are for informational and educational purposes only and are not intended to provide tax, legal, or investment advice. OilAndGasPress welcomes all viewpoints. Should you wish to provide a different perspective on the above article, please email us info@OilAndGasPress.com
Information posted is accurate at the time of posting, but may be superseded by subsequent press releases