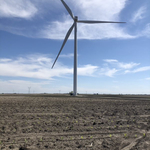 Ørsted enters a joint venture partnership with Simply Blue Group
Ørsted has acquired a majority stake in the 100 MW Salamander floating offshore wind development project on the Scottish coast, entering a joint venture (JV) partnership with Simply Blue Group, a leading Irish blue economy developer in floating offshore wind, wave energy and low-impact aquaculture. Ørsted will own an 80% stake in the project as Simply Blue Group's newest JV partner on the project, alongside minority JV partner, Subsea 7.
Salamander is intended to be progressed through the innovation track of Crown Estate Scotland's forthcoming Innovation and Targeted Oil and Gas (INTOG) leasing round later this year. Established by Simply Blue Group, the project is designed as a stepping-stone for floating wind technology, providing an opportunity for supply chain businesses to gear up for commercial scale floating wind opportunities and help the technology become cost competitive as early as possible. The Salamander project follows on from other such projects Simply Blue Group is developing with major energy operators around Ireland and in Wales.
---
Information Source: Read More
Oil and gas, press , | Energy, Climate, Renewable, Wind, Biomass, Sustainability, Oil Price, LPG, Solar, Electric,