Porsche Vision 357
Porsche is now embarking on its anniversary year with the Porsche Vision 357 and a reference to the Porsche 356 – the dream of Ferry Porsche of a sports car. As an homage to this, the design study brings the monolithic form into the present day. Liberated from the regulations that apply for implementation as a series model, the Style Porsche Team manifests potential expressions of the future design philosophy: one example is the consistent enhancement of the light signature, which is both progressive and visionary in the way it points towards the future. The fundamental concept is reflective of the interplay between tradition and innovation: what would the dream of a sports car of Ferry Porsche might look like today?
356 as a basis to design DNA
"We created a very special birthday present in the form of the Porsche Vision 357, one which uses the 356 as a basis to underscore the significance of our design DNA," as Michael Mauer, Vice President Style Porsche, says. "The design study is an attempt to combine the past, present and future with coherency, featuring proportions that are reminiscent of its historical archetype and details that visualise the outlook for the future."
Built on the technology platform of the 368 kW (500 PS; 718 Cayman GT4 RS: Fuel consumption* combined (WLTP) 13.2 l/100 km, CO₂ emissions* combined (WLTP) 299 g/km) 718 Cayman GT4 RS, the Porsche Vision 357 represents outstanding sports car performance. The exterior design study is the highlight of the special exhibition "75 Years of Porsche sports cars" at the Volkswagen Group's "DRIVE" Forum in Berlin, which opened with an exclusive evening event on 25 January 2023. The exhibition will be open to the public from 27 January 2023, and the Porsche Vision 357 will be on exhibit until mid-February. The design study will be presented at the South by Southwest in Austin from 10 March 2023 and at further international events over the course of the year.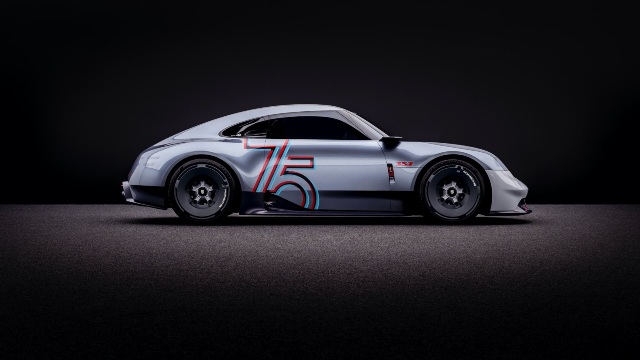 ---
Information Source: Read More "
Energy Monitors , Electric Power , Natural Gas , Oil , Climate , Renewable , Wind , Transition , LPG , Solar , Electric , Biomass , Sustainability , Oil Price , Electric Vehicles,