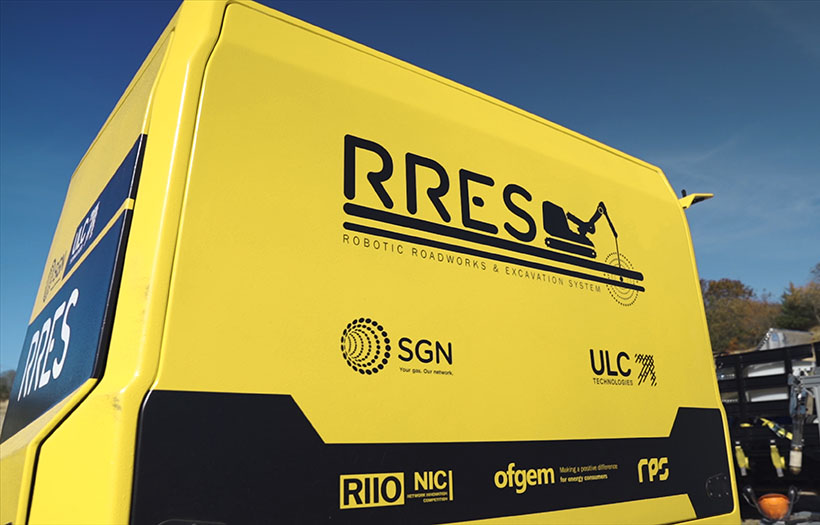 SGN to reveal world-first robotic system
SGN revealing latest Robotics Roadworks and Excavation System (RRES) prototype at three major virtual energy industry events this winter: Utility Week Live, the Future of Utilities Summit and the Energy Networks Innovation Conference.
---
Two years into a three-year development programme with our partner ULC Technologies, our world-first all-electric autonomous robot is on track for field trials to begin on our network early next year.
---
Our RRES project aims to develop an accurate, safe automated system to maintain our network of underground gas pipes. This will help reduce the costs of excavating buried pipelines, minimise the disruption associated with excavating underground pipes and also make excavating close to utility pipes and cables even safer for our engineers.
---
Typically, accurate robotic systems are found inside protected and controlled environments. The RRES robot takes this technology out into the field, mounting a robotic arm on a track to make the system mobile while providing a robust and weatherproof cover to protect the robotics in all weather conditions.
---
At Utility Week Live between Tuesday 24 November and Thursday 26 November, the Future of Utilities Summit on Friday 4 December and the Energy Network Innovation Conference on 9 December, we'll be introducing our latest prototype and showcasing some of the exciting developments we've made in recent months:
---
Below-ground sensors
Before starting any excavation, RRES uses a host of different types of sensors to build a detailed and very accurate picture of the ground beneath it. The robot automatically scans the area and a computer algorithm then processes the data, combining it to create a map. RRES then generates a three-dimensional model of underground assets, enabling the team to plan a site for excavation with complete confidence.
---
Information Source: Read Full Report ……..
---
Submitted by: Press release