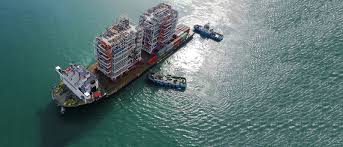 TechnipFMC Announces 4th Quarter Non-cash Impairment Charges of $2.4 Billion
TechnipFMC plc (NYSE: FTI) (Paris: FTI) today announced a preliminary financial update in advance of the Company's fourth quarter 2019 earnings release scheduled for Wednesday, February 26, 2020.
The Company anticipates segment results for the full year 2019 to be as follows:
Total Company revenues approaching the guidance mid-point of $13.5 billion

Adjusted EBITDA margin1 for all segments to meet or exceed guidance of at least 11.5% for Subsea, 16.5% for Onshore/Offshore, and 10% for Surface Technologies

Corporate expense, net1, in-line with guidance of $210 – 215 million, excluding impact of foreign currency fluctuations

The Company expects approximately $2.4 billion of non-cash asset impairment charges to impact results in the fourth quarter.
—
As part of the Company's annual goodwill impairment test, the Company's market capitalization was compared to our estimate of fair value for each reporting segment. TechnipFMC's market capitalization on its testing date had declined significantly when compared to the prior-year's assessment, driven in part by greater geopolitical uncertainty and lower commodity prices. As a result, our estimate of business fair value could not be supported by the market capitalization on the testing date.
In Subsea, the Company expects to record a goodwill impairment charge of approximately $1.3 billion due to the decline in the Company's market capitalization. The charge does not reflect a change in our outlook for 2020 or the long term.
In Surface Technologies, the Company expects to record a goodwill impairment charge of approximately $0.7 billion. This charge reflects a change in our outlook for the North American market given the challenging near-term environment and reductions to our regional activities focused on improving the economic returns of our business.

In Onshore/Offshore, the Company will not incur a goodwill impairment. An improved business outlook, as evidenced by significant growth in the Company's LNG-related backlog, supports the current level of goodwill attributable to the segment.
Additionally, the Company expects to record other asset impairment charges totaling approximately $0.4 billion. Most of these charges will be incurred in the Subsea segment, driven by continued rationalization of our global footprint as we benefit from the market's accelerated adoption of our integrated offering. The remaining charges will be recorded in Surface Technologies and relate to our North American operations.
Also in the quarter, the Company expects to record approximately $50 million of pre-tax charges and credits related to the Company's separation, restructuring, and other activities.
These preliminary financial results are subject to completion of the Company's customary annual closing and financial statement audit procedures.
1Our guidance measures of adjusted EBITDA margin (excluding amortization related impact of purchase price accounting, and other charges) and corporate expense, net (excluding the impact of foreign currency fluctuations), are both non-GAAP measures for which we are unable to provide a reconciliation to the most directly comparable GAAP financial measures on a forward-looking basis without unreasonable effort, as further described in our press release of October 23, 2019.
—
Source / More : TechnipFMC
Oil and Gas News Straight from the Source
Please email us your industry related news for publication info@OilAndGasPress.com
Follow us: @OilAndGasPress on Twitter | OilAndGasPress on Facebook