US State Energy Profiles & Analysis
The State Energy Profiles have new monthly data for electricity, petroleum, natural gas, and coal. These data series cover prices, supply, and consumption. In addition, new annual data are available for motor gasoline stations as well as territory population and gross domestic product (GDP).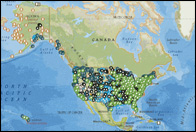 Analyses and Quick Facts have been updated for four states. Some of the new facts include
· Many rural communities in Alaska rely primarily on diesel electric generators for power, and Alaska ranks second only to Hawaii in the share of its electricity—13% in 2018—that is generated from petroleum fuels.
· Hawaii was the first state to set a deadline for generating 100% of its electricity from renewable sources, which is required to be achieved by 2045.
· In 2018, 70% of Oregon's utility-scale net electricity generation came from conventional hydroelectric power plants and other renewable energy resources.
· In part because of the relatively low operating costs of hydroelectric power generation, Washington had the nation's third-lowest average retail price for electricity in 2018. Only Louisiana and Arkansas had lower average prices.
The State Energy Profiles provide Analysis and Quick Facts for each of the 56 states and territories. In addition, the Profiles offer 81 key data series for each state, including state rankings for 10 of the data series. View all 56 State Profiles, eia.gov
Source / More : eia.gov
Oil and Gas News Undiluted !!! "Sustainability is the new Green"
Please email us your industry related news for publication info@OilAndGasPress.com
Follow us: @OilAndGasPress on Twitter | OilAndGasPress on Facebook
Disclaimer
Most News articles reported on OilAndGasPress are a reflection of what is published in the media. OilAndGasPress is not in a position to verify the accuracy of daily news articles. OilAndGasPress welcomes all viewpoints. Should you wish to provide a different perspective on the above article, please email us info@OilAndGasPress.com