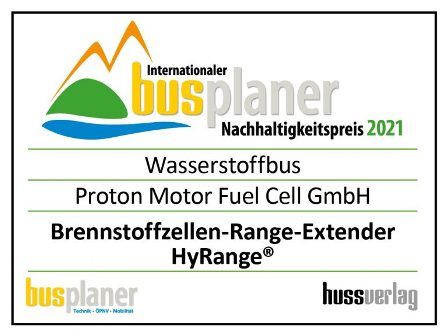 Proton Motor receives busplaner Sustainability Award for hydrogen bus
Trade magazine busplaner awarded the "International busplaner Sustainability Award" for outstanding sustainable achievements to winners in 13 categories with products and services that have had a high impact in the bus industry.
---
Proton Motor Fuel Cell GmbH", the hydrogen fuel cell expert with its cleantech developments for environmentally friendly transport, won an award in the "Hydrogen Bus" category. Manfred Limbrunner, Proton Motor, Sales and Marketing Director received the award from Andreas Haller (CEO/Quantron AG) at the award ceremony (digital special edition of "BUS2BUS" event) by "Messe Berlin" in Germany.
---
Proton Motor was specifically recognised for climate-neutral innovation performance in alternative drive solutions with regard to its hybrid concept of the range extender system "HyRange®" for range enhancement.
---
The "HyRange®" system has proven its worth as an "on-board battery charger" and is currently being integrated in refuse collection vehicles by "E-Trucks Europe b.v." in the context of the EU funding project "REVIVE" (Refuse Vehicle Innovation and Validation in Europe).
---
Information Source: Read Full Release ..–>
---
Press release by: