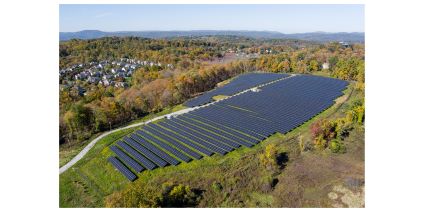 Dimension Renewable Energy Celebrates Virginia's First Shared Solar Projects
Dimension's 12 facilities will deliver low-cost solar energy to 10,000 low-income Virginians and generate over $20 million in lifetime savings for subscribers
WAYNESBORO, Va.–(BUSINESS WIRE)–Today Dimension Renewable Energy (Dimension) will be joined by leading elected officials, state regulators, and industry partners to celebrate one of the state's first shared solar facilities––a 5 megawatt (MW) project in Waynesboro, Virginia that will bring low-cost clean energy to 1,200 nearby low-income households.
The project, called Waynesboro Bridge Solar, is one of 12 solar facilities developed, owned, and operated by Dimension that will be first to go live under the state's shared solar program. The portfolio will be subscribed to by nearly 10,000 low-income households and generate over $20 million in savings for those subscribers.
Unlike utility scale or rooftop solar, shared solar, or community solar, allows renters, small businesses, and homeowners who lack adequate roof space or cannot afford their own solar panels to subscribe to the shared solar facility, and lower their electric bills.
"As a result of years of hard work getting Virginia's shared solar program off the ground, Virginians will now be able to take control of their electric bill and participate in the clean energy economy without having to buy their own solar panels or own a home," said Bryan Bentrott, Vice President of Origination at Dimension.
Dimension's Waynesboro Bridge project will provide reduced-cost clean energy to nearby Virginians, including residents of Community Housing Partners (CHP) properties in Dominion Energy's service territory. CHP is an affordable housing provider that partners with Dimension to offer "CHP Solar Savings," a shared solar subscription available exclusively to their residents.
"Subscribers to the Waynesboro Bridge Solar project can expect a guaranteed monthly savings of 10 percent," said Angie Roberts-Dobbins, Vice President of Resident Services at CHP. "Multiply that savings by the total number of subscribers the site can serve over its lifetime, and that translates to $2.8 million that can be turned back into the local economy."
Shared solar is available to all customers, residential and commercial, in Dominion Energy service territory; however, program participation is capped at 150 MW and is further limited by extra on-bill charges assessed specifically on subscribers by Dominion Energy. Customers of Appalachian Power currently do not have access to a shared solar program. In last year's legislative session, efforts to expand the Dominion program and create a program in Appalachian Power territory stalled in the House of Delegates due to utility opposition after passing the state Senate.
"Shared Solar is launching with the completion of these projects and the thousands of households they will serve, but we need legislative action to bring Shared Solar to more Virginians. We are ready to build on bipartisan support to make Shared Solar broadly available across the Commonwealth," said Charlie Coggeshall, Mid-Atlantic regional director of CCSA. "An expanded program can bring billions of dollars in benefits from avoiding utility infrastructure build out that benefits all utility customers. CCSA is looking forward to the next legislative session where we will be quantifying these benefits and supporting new legislation to bring those benefits to fruition."
In addition to delivering monthly savings for subscribers, the Waynesboro Bridge Solar project has created over 40 new local jobs for contractors, electricians, engineers, surveyors, and maintenance crews. It is also contributing over $550,000 in real estate tax revenue for Augusta County.
---
About Dimension Renewable Energy
Dimension is a leading developer and operator of community solar solutions. For the communities in which we invest, our fleet of solar projects delivers clean energy, local jobs, tax revenue, and savings, alongside other benefits including workforce development and educational opportunities. We are a turnkey provider of these solutions: from site acquisition and development, to construction and operation, we are a steady and reliable presence in our communities.
Contacts
Jack Shaw
Media Relations
Antenna Group
(510) 910 5427
Abigail Thompson
Government Affairs Specialist
Gentry Locke
(804) 489-0933