Crude Oil Prices, News to 24/11/2020
Oil prices continued to rise on Tuesday boosted by another Covid-19 vaccine success in the UK.
News that U.S. President Donald Trump allowed the transition to Joe Biden's administration to begin could also be attributed to the upswing in oil price.
Commodity At press time
Units
Price $
Change
Crude Oil (WTI)
USD/bbl
44.94
0.00%
Crude Oil (Brent)
USD/bbl
47.74
0.00%
Bonny Light
USD/bbl
45.79
0.00%
Natural Gas
USD/MMBtu
2.75
0.00%
OPEC basket 20/11/20
USD/bbl
44.75
0.00%
The OPEC Reference Basket of Crudes (ORB) is made up of the following: Saharan Blend (Algeria), Girassol (Angola), Djeno (Congo), Zafiro (Equatorial Guinea), Rabi Light (Gabon), Iran Heavy (Islamic Republic of Iran), Basra Light (Iraq), Kuwait Export (Kuwait), Es Sider (Libya), Bonny Light (Nigeria), Arab Light (Saudi Arabia), Murban (UAE) and Merey (Venezuela).
---
Baker Hughes Rig Count to 20th November 2020
---
United States 310 (Down 2 from prior count)
Canada 101 (Up 12 from prior count)
International 656 (No Change from October count)
The Baker Hughes Rig Counts are an important business barometer for the drilling industry and its suppliers. [Read more…]
---
Norway Opens More Arctic Areas to Oil Industry Amid OppositionNorway's oil and gas industry has been keen for new acreage to offset an expected decline in production in the middle of the next decade.
---
Plans to run a stretch of railway line in southern England on solar power have taken a major step forward, after the social enterprise behind the pioneering project snapped up £2.5m of government funding. The Riding Sunbeams project, developed by climate charity Possible and Community Energy South, wants to make the London to Eastbourne mainline the world's first railway directly powered by solar electricity.
---
Plug-in hybrid vehicles are 'fake electric cars' that emit up to 12 TIMES their quoted carbon dioxide outputs, new investigation claims Popular plug-in hybrid electric vehicles (PHEVs) from BMW, Volvo and Mitsubishi were tested for their pollution levels during different driving scenarios.
It found that, even when they have their batteries fully charged and used in the most optimum conditions, they can emit up to 89 per cent more CO2 than claimed figures suggest.
---
Global investors managing nearly $7tn (£5.2bn) of assets plan to almost double their spending on renewable energy infrastructure over the next five years amid deepening concerns over the fossil fuel industry's climate plans, according to a report.
---
A survey of institutional investors found that they are planning to increase their renewable energy investments from 4.2% of their overall portfolio to 8.3% in the next five years and 10.8% within the next decade to about $742.5bn.
---
UAE leaving OPEC? Reports that Abu Dhabi was considering withdrawal from OPEC, of which it was a founding member, were based on unattributed briefings from anonymous officials, but were reported by reputable media organizations
---
Bentley Goes All-In on Electrification In the Bentley Continental the six-liter W12 generates a mighty 626 horsepower and 663 pound-feet of torque, resulting in a zero to 62 mile per hour time of just 3.6 seconds and a top speed of 207 miles per hour. It's an iconic engine, but it's also on its way out as Bentley pivots—hard—to electrification.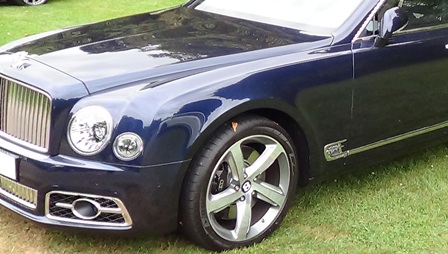 ---
Source / More information: Newstrack compiled by Oil and Gas Press / Segun Cole , Please email us your industry related news for publication info@OilAndGasPress.com
Follow us: @OilAndGasPress on Twitter |
Disclaimer
Most News articles reported on OilAndGasPress are a reflection of what is published in the media. OilAndGasPress is not in a position to verify the accuracy of daily news articles. The materials provided are for informational and educational purposes only and are not intended to provide tax, legal, or investment advice. OilAndGasPress welcomes all viewpoints. Should you wish to provide a different perspective on the above article, please email us info@OilAndGasPress.com