Oil Prices,Energy Newstrack to 22/03/2021
European lockdowns continues to have a downward effect on oil prices falling around 1% as demand for fuel products remains stagnant.
Oil prices rose slightly again by Friday morning
---
Commodity Prices
Units
Price $
Change
Crude Oil (WTI)
USD/bbl
61.55
Down
Crude Oil (Brent)
USD/bbl
64.72
Down
Bonny Light
USD/bbl
62.68
Down
Natural Gas
USD/MMBtu
2.48
Up
OPEC basket 19/03/21
USD/bbl
62.47
Down
At press time 18 March, 2021
---
Electric Vehicle Growth to Lead to Higher Gas Demand According to the latest edition of the GECF Global Gas Outlook 2050 (GGO 2050) [13], the demand for natural gas is expected to rise by 50% from 3,950 billion cubic metres (bcm) in 2019 to 5,920 bcm by 2050. The power generation sector will be the main driver for global gas consumption growth by 2050 with 67% (935 bcm). Therefore, global gas consumption in the power sector will increase from 1,400 bcm in 2019 to 2,340 bcm by 2050.
---
Photovoltaic characterisations and non-radiative voltage losses Adjusting the energy of interfacial states in organic photovoltaics for maximum efficiency
---
ABB brought on board to power Total-led Mozambique LNG Project CCS JV, comprising Saipem, McDermott and Chiyoda, has signed a deal with ABB to provide comprehensive integrated and intelligent electrical systems for the east-African Mozambique LNG field which is expected to start production by 2024.
---
Betting on China's driverless future, Toyota, Bosch, Daimler jump on board Momenta's $500M round Momenta exceeded $1 billion in valuation in two years and became one of the most-funded driving companies in China. The startup has a dazzling list of investors, from Kai-Fu Lee's Sinovation Ventures and the government of Suzhou, to Mercedes-Benz maker Daimler.
---
advancements in the development of solid-state batteries Researchers at Massachusetts Institute of Technology (MIT) have written a review paper that summarizes recent advances in the field, outlining strategies to process the solid electrolytes and electrolyte/cathode tandems that could be used in future SSB designs.
---
Transparent Solar Panels can Help Greenhouses Turn Energy Neutral greenhouses can be made energy neutral by utilizing transparent solar panels to harvest solar energy, mainly from the wavelengths of light that are not used by plants for photosynthesis.
---
UK Private Equity Firm Looks To Buy Stake In Angola's Oil Major Sonangol Angola is the second-largest oil producer in Africa, after only Nigeria, but it has been experiencing reserve depletion for lack of investment incentives that would draw foreign oil companies in.
U.S. Threatens Nord Stream Partners With Sanctions Washington has threatened all companies involved in the Gazprom-led Nord Stream 2 gas pipeline project with sanctions
---
Baker Hughes Rig Count to 22nd March 2021
---
AMETEK Specialty Metal Products Renews ISO 9001:2015 Certification The accreditation covers the company's manufacturing of precision strip, shaped wire and engineered shaped components from powder metallurgy and cast/wrought products. The coveted certification mark was granted by Bureau Veritas and runs for three years.
---
Developing a model to protect the biodiversity of Saudi Arabia A surprising diversity of wild animals and plants occurs in Saudi Arabia. In fact, 499 species of birds have been recorded in the Kingdom, along with 117 mammals, 107 reptiles, 266 corals, 1,230 fish, eight amphibians, and over 2,400 flowering plants.
---
Aveva completes $5 billion OSisoft takeover as software firm's CEO hails 'British success story' The deal will see the FTSE 100 company, whose software is used in everything from the production of Danone yogurts to the machines roasting Starbucks coffee beans, nearly double in size – taking it to an estimated £1.2 billion in annual revenues and an estimated operating profit of around £330 million.
---
Aramco to Prioritize Energy Supply to China for 50 Years Saudi Aramco will ensure China's energy security remains its highest priority for the next 50 years and beyond as new and existing energy sources run in parallel for some time, CEO Amin Nasser told the China Development Forum on Sunday.
---
bp files Annual Report and Form 20-F for 2020 In accordance with Section 203.01 of the New York Stock Exchange Listed Company Manual, BP p.l.c. announces that on March 22, 2021 it filed with the Securities and Exchange Commission an Annual Report on Form 20-F that included audited financial statements for the year ended December 31, 2020.
---
ADNOC AND ADMM Announce Extention of Partnership Supporting the health and wellbeing of the UAE community, and providing more ways to participate in motorsport at all levels, will be key areas of focus, with ADNOC playing a pivotal role in the delivery of these objectives.
---
Wrightbus to get £11.2m for hydrogen-fuel technology This public money will be used to manufacture low-cost hydrogen-fuel cell technology for buses at its Ballymena site.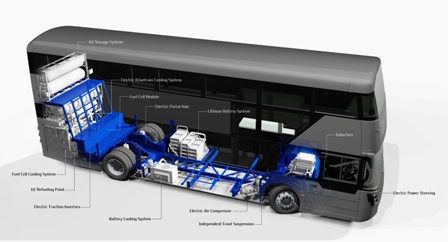 ---
Newstrack compiled by Oil and Gas Press / Segun Cole , Please email us your industry related news for publication info@OilAndGasPress.com
Follow us: @OilAndGasPress on Twitter | OilAndGasPress on Facebook
Press release / News on Saving Energy, Protecting the Environment
---
Disclaimer
Most News articles reported on OilAndGasPress are a reflection of what is published in the media. OilAndGasPress is not in a position to verify the accuracy of daily news articles. The materials provided are for informational and educational purposes only and are not intended to provide tax, legal, or investment advice. OilAndGasPress welcomes all viewpoints. Should you wish to provide a different perspective on the above article, please email us info@OilAndGasPress.com