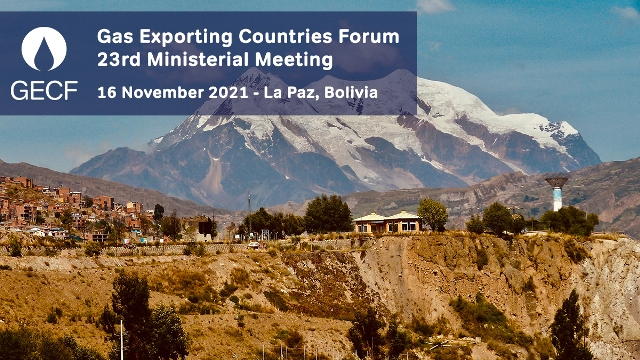 23rd GECF Ministerial Meeting
The 23rd edition of annual Ministerial Meeting of the Gas Exporting Countries Forum (GECF) will take place online on 16 November 2021 under the Presidency of the Plurinational State of Bolivia.
---
The kick-off session of the Meeting, which is open to members of public and media, will feature welcome addresses by HE Franklin Molina Ortiz, Bolivian Minister of Hydrocarbons and Energies, HE Yury Sentyurin, GECF Secretary General, as well as Ministers and Head of Delegations. Invited top-ranking officials from guest countries and organisations are also expected to address the gathering.
---
The broadcast will commence at 8:00 am La Paz time (3:00 pm Doha, 12:00 pm GMT) on https://youtu.be/pBbyoZN9_3c.
The GECF Ministerial Meeting formulates the general policy of the Forum and determines the best methods and means of implementation; appoints the Chairman and Alternate Chairman of the Executive Board; decides on membership applications; approves the Programme of Work and Budget of the Forum.