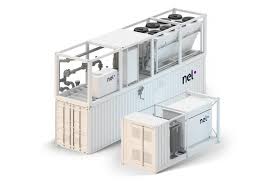 Nel ASA reported revenues of NOK 229.3 million in the third quarter of 2021, up 55% from NOK 147.7 million in the same quarter of 2020 and an EBITDA of negative NOK 113 million (Q3 2020: -42.1) incl. one-offs and ramp-up cost. This includes costs relating to the ramp-up at the new Herøya facility, which will commence production for Nikola and Everfuel in the fourth quarter. The order backlog ended at NOK 1 014 million, up 8% from same quarter last year. The potential pipeline of orders continues to grow, currently amounting to more than USD 6 billion and Nel reiterates the strong long-term outlook and growth prospects for the sector.
"In the third quarter, we are proud to announce that we have produced the first electrode batch from our new, fully-automated production facility at Herøya and we are ready to start producing the orders to Nikola and Everfuel in the fourth quarter. Nel reports all-time high revenues in the quarter, however, the financial results continue to be negatively impacted by the strategic ramp-up, investments in people and technology and the continued effects of the Covid-pandemic. It is encouraging to see the pipeline of potential projects continue to grow even if orders are taking longer to close as order sizes increases and public funding mechanisms are taking some time to implement," says Jon André Løkke, Chief Executive Officer of Nel.
Nel reported revenue and operating income in the third quarter 2021 of NOK 229.3 million (147.7), mainly related to increase in the Electrolyser segment compared to the same quarter in 2020. Nel is no longer reporting adjusted EBITDA separately, however, the EBITDA includes one-offs and ramp-up cost. Results are impacted by costs relating to the ramp-up at Herøya before production and revenue contribution from the facility. The reported operating loss was NOK -138.9 million (-116.3), while the pre-tax loss ended at NOK -509 million (-628.6) following a net negative fair value adjustment related to the shareholding in Everfuel and Nikola. The backlog is up 8% since third quarter last year, with an order intake of around NOK 139.2 million in the quarter.
---
The pipeline of potential orders continues to grow and stands at a record-high amount of more than USD 6 billion. The pipeline represents more than 11 GW of installed electrolyser capacity, with the single largest potential order of 1.6 GW. Net cash balance at the end of second quarter 2021 was NOK 2.93 billion.
---
Information Source: Read More
Oilandgaspress.com | Energy, Climate, Renewable, Wind, Biomass, Sustainability, Oil Price, LPG, Solar