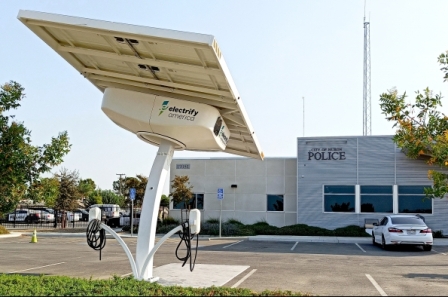 Access to Solar-Powered Electric Vehicle Charging Increases in US
Electrify America, has officially added 30 solar-powered electric vehicle (EV) charging stations with two Level 2 chargers each to its network in the state of California. The off-grid, standalone chargers are strategically located throughout the Central Valley and inland areas of Southern California, intended to provide greater access to sustainable EV charging for drivers in rural parts of the state.
---
Electrify America's EV charging infrastructure plans in California include a commitment to increasing access to EV charging infrastructure in rural areas of the state, to both facilitate regional travel and drive adoption of EVs in rural communities. With complimentary charging, the new solar units help combat two of the biggest barriers to EV adoption in these locations – access to public charging and affordability. The network ensured that more than half of these chargers were located in disadvantaged and low income communities, demonstrating the company's ongoing commitment to serve these populations.
---
"Electrify America's mission centers around increasing access to electric vehicle charging infrastructure to meet the differing needs of drivers across a diverse set of communities and lifestyles," said Nina Huesgen, senior manager, home and ecommerce at Electrify America. "We believe adding renewable energy to our offerings and expanding access to public charging in rural communities will help continue to spur EV adoption in the state."
---
Twenty of the 30 solar-powered charging stations are located at health care centers.
---
Information Source: Read Full Release ..–>
---
Press release by: Electrify America,