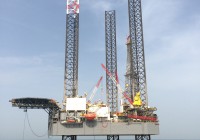 ADNOC Invests $6 billion to boost crude oil production capacity
The Abu Dhabi National Oil Company (ADNOC) announced today, record investments worth up to almost $6 billion (AED22 billion) to enable drilling growth as it boosts its crude oil production capacity to 5 million barrels per day (mmbpd) by 2030 and drives gas self-sufficiency for the United Arab Emirates (UAE). The announcement was made at the Abu Dhabi International Petroleum Exhibition and Conference (ADIPEC) and follows the recent successful listing of ADNOC Drilling on the Abu Dhabi Securities Exchange (ADX).
---
The investments are in the form of procurement awards to top-tier contractors for Wellheads and related components, Downhole Completion Equipment (DCE) and related services, and Liner Hangers and Cementing Accessories – all crucial in drilling for oil and gas and completing wells. Almost 60% of the total value of the awards could flow back into the UAE's economy under ADNOC's successful In-Country Value (ICV) program over the duration of the awards.
---
Furthermore, more than $900 million (AED3.3 billion) worth of wellheads and over $700 million (AED2.6 billion) worth of Downhole Completion Equipment will be manufactured in the UAE as well as all liner hangers. In addition, $185 million (AED679 million) in foreign direct investment (FDI) will flow into the UAE's economy to establish two wellheads manufacturing and assembly facilities, enhance drilling-related equipment manufacturing and assembly, and enable local manufacturing of 20 new drilling completion products thereby strengthening the UAE's drilling supply chain with vendor managed inventory.
---
Information Source: Read More
Oil and gas, press , | Energy, Climate, Renewable, Wind, Biomass, Sustainability, Oil Price, LPG, Solar