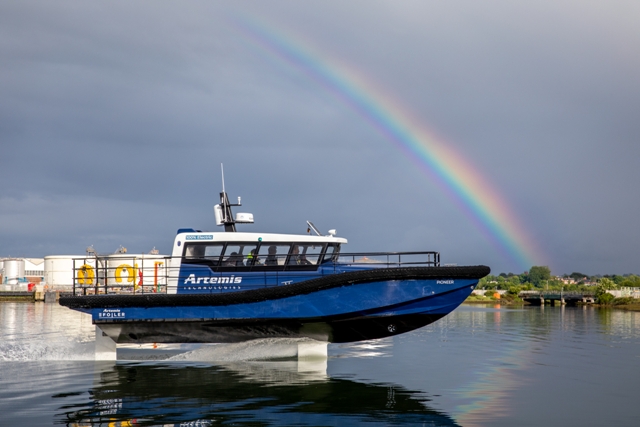 Artemis Technologies launch commercially viable 100% electric foiling workboats
Artemis Technologies, the global leader in green maritime innovation, has launched to market the world's first commercially viable 100% electric, high-speed foiling workboat range.
Developed and built in Belfast, the zero-emission vessels are the greenest workboats on the planet and represent a £12 million investment in research and development.
With a top speed of 34 knots and a range of 60 nautical miles at 25 knots cruise speed, the vessels produce incredible energy savings of up to 90% compared to conventional fossil fuel workboats.
Powered by the revolutionary Artemis eFoiler ® propulsion system, the workboats fly silently above the water, ensuring an exceptionally comfortable gliding experience no matter the sea conditions and creating minimal wake, making them an ideal solution for traditionally busy waterways.
Aimed specifically at the global workboat and crew transfer market, Artemis Technologies' electric foiling workboat range ensures robustness and reliability that has been developed and tested on the world's most advanced marine digital twin simulator located in Belfast.
The company, which currently employs 60 people, is developing a range of green transport solutions which it anticipates will create 1,000 jobs over the next decade. Artemis Technologies is a spin-off from the Artemis Racing team that competed in the America's Cup of which its founder, two-time Olympic champion Dr Iain Percy OBE is a four-time veteran.
---
Information Source: Read More–>
ENERGY | ELECTRIC POWER | NATURAL GAS | OIL | CLIMATE | RENEWABLE | WIND | TRANSITION | LPG | OIL & GAS | SOLAR | ELECTRIC | BIOMASS | SUSTAINABILITY | OIL PRICE |