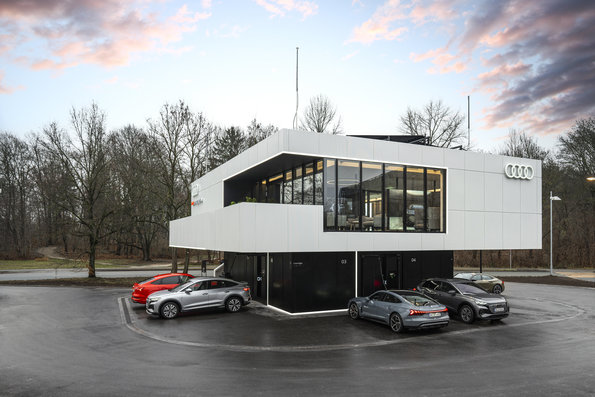 Audi charging hub as an urban quick-charging concept, a World's first
At the exhibition center in Nuremberg, the first Audi charging hub is going into operation as the only charging concept of its kind in the world. The Audi charging hub opens for customers on December 23. The modern quick-charging station with reservable high-power charging areas is oriented toward, among other things, electric car owners who don't have any charging opportunities at home. Moreover, the Audi charging hub is intended to serve future peak demand for charging in urban environments. A connected lounge area offers a premium charging experience.
With the pilot location, Audi is road-testing its new charging concept for the first time. "We want to use it to test flexible and premium-oriented quick-charging infrastructure in urban space," says Ralph Hollmig, Audi charging hub project manager. "We're going where our customers don't necessarily wake up in the morning with a fully charged electric car and at the same time thinking about increasing charging demand in the future."
---
Self-sufficient and affordable charging infrastructure
Cubes are the foundation of the Audi charging hub. The flexible container cubes can be assembled and disassembled again in existing areas in a few days. The cubes provide two fast-charging stations for each unit and can be combined in various constellations. Used and processed lithium ion batteries function as energy storage systems – what are known as second-life batteries taken from dismantled development vehicles. That reduces costs and resources. This makes complex infrastructure with high-voltage power lines and expensive transformers as unnecessary as time-consuming planning procedures. The Audi charging hub's battery-storage solution will bring quick-charging infrastructure where the electric grid is not enough.
Thanks to the roughly 2.45 MWh of interim storage, the charging stations in Nuremberg only need a 200 kW green power connection to the low-voltage network that is already available, which is entirely sufficient for operating the Audi charging hub. The 200 kW are enough to continually fill the storage modules. Solar panels on the roof additionally provide up to 30 kW of green energy. Customers can charge electric cars with up to 320 kW of power at six charging points. A total of about 80 vehicles can be charged here per day without reaching the limits of the energy storage system's capacity combined with the hub's 200 kW power input.
The Audi e-tron GT reaches a charging capacity of up to 270 kW. That allows the four-door Coupé to charge enough energy for up to 100 kilometers in about five minutes. A charge from 5 to 80 percent takes roughly 23 minutes.
---
Prices like the Wallbox at home
Currently, anyone who chooses to use the high-power charging stations at the Audi charging hub in Nuremberg and have an e-tron Charging Service contract can charge for 31 cents per kilowatt hour, regardless of the rate. That makes the Audi charging hub a real alternative to charging at home. "We're providing people in urban areas with charging at the price they would pay to charge using the Wallbox at home," says Hollmig. The Audi charging hub in Nuremberg is an open charging site. The entrance area is even accessible for drivers of cars of other makes.
Fast and uncomplicated charging
Audi customers can use the new reservation function in the myAudi app: they can easily book one of the six charging areas. Charging itself is quick and uncomplicated. With Plug and Charge (PnC),
---
Information Source: Read the article
Oil and gas, press , | Energy, Climate, Renewable, Wind, Biomass, Sustainability, Oil Price, LPG, Solar,Electric