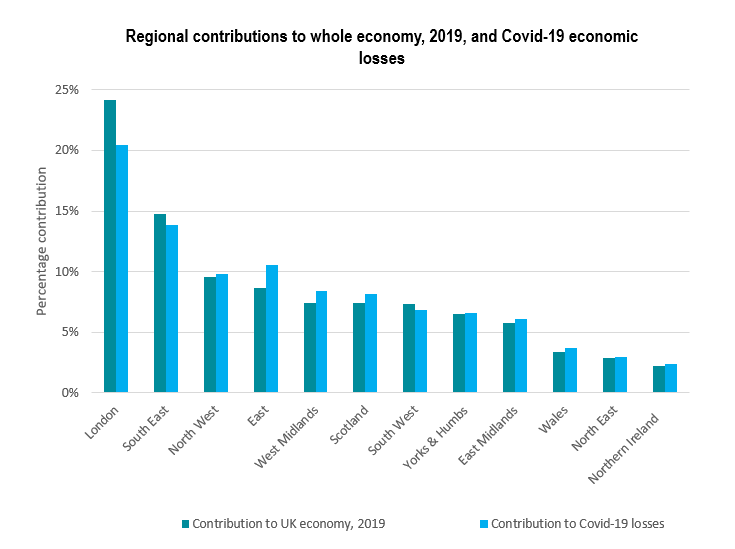 COVID-19 lockdowns has cost the UK economy £251 billion
Centre for Economics and Business Research (CEBR) forecasts suggest that, over the past year, Covid-19 has been the predominant cause behind a £251 billion reduction in the UK's gross value added (GVA). This figure is derived by comparing our final pre-Covid forecasts from the beginning of 2020 with the most recent data on actual economic output. In other words, it is a comparison between a counterfactual scenario in which Covid-19 did not occur and the actual experience of the economy in the past twelve months.
---
To highlight the scale of this loss in activity, this reduction is roughly equivalent in size to the entire annual output of the South East, in pre-Covid circumstances, and nearly twice the output of Scotland.
---
Continuing the geographical comparisons, we can estimate the size of the Covid-19 losses in each of the UK's regions. We find that, in absolute terms, the losses in London have been the highest, amounting to £51.4 billion of lost activity. This was followed by the South East and East of England, with losses of £34.7 billion and £26.6 billion, respectively.
---
Interesting findings stem from a comparison between each region's contribution to the overall pandemic-induced loss and their contribution to UK-wide GVA in normal circumstances. This can highlight the areas that have disproportionately lost out on economic activity. For instance, while London contributed 20.5% of the overall loss in activity as a result of coronavirus, the capital contributes just under a quarter of the country's activity ordinarily.
---
As such, London's contribution to the £251 billion of UK-wide losses was smaller than expected given the size of its economy. This can be explained through London's comparative advantage in sectors such as finance & insurance and information & communication, with these fields exhibiting some of the smoothest transitions to remote working.
---
Information Source: Read Full Release ..–>
---
Press release by: