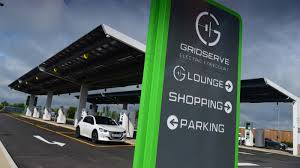 Electric Vehicle battery range explored
The new availability of long-range electric cars has put the onus back on the UK's charging infrastructure to supply a dependable, clean, low-cost energy source for motorists. This is something GRIDSERVE is actively working to change with straightforward and sustainable charging solutions available through the GRIDSERVE Electric Forecourt®, Electric Hub® and Electric Highway network. To complement this infrastructure, we also offer an amazing EV leasing service.
---
Which electric cars have the longest range?
GRIDSERVE listed a wide range of EV and most are available for leasing through GRIDSERVE
---
Tesla Model S: has at least a 100kWh battery pack and the best Long Range version will deliver up to 379 miles of range, depending on the weather and your driving style.
Ford Mustang Mach-E: Ford's first pure-electric SUV boasts a range of up to 379 miles if you choose the Extended Range version. With 88kWh of available battery charge.
Tesla Model 3: offers upwards of 360 miles of driving range on a single battery charge.
VW ID.3: ID.3 has an excellent 340 miles of range. It was Volkswagen's first 'fully electric from the ground up' design and we recommend you choose the 77kWh battery option.
Peugeot e-2008: With a 50kWh battery and an estimated 206 miles of range
Polestar 2: With a target range of 292 miles, the Polestar 2 EV from Volvo's performance brand is emerging as a legitimate long-range player in the electric car market.
Jaguar I-pace: With a 292 mile range it was a car before its time that's still proving a market leader.
Audi E-tron GT: The Audi GT is packing an impressive 280 miles+ of range and is a close replica of their stunning 2018 concept car. Every version of the GT uses the same battery size (93 kWh)
Porsche Taycan: With 280 miles of range the Porsche Taycan has a simple proposition, to make you look really good – for longer. It's been called the most desirable electric car on the market due to its sportscar like handling, but these features do come at a price.
Nissan Leaf: The best selling EV in the world
The Nissan Leaf has a 62kWh battery with a range of around 225 miles. It also has the distinction of being the first EV with over 400,000 sales worldwide.
Vauxhall Corsa-e: estimated 225-mile battery range, along with tax incentives and a reasonable sticker price, make the Corsa-e worth a look.
Mercedes-Benz EQC : Its estimated range of the Mercedes EQC is 219 miles; however, at this year's board meeting, Daimler AG announced a 430-mile range pledge for the Vision EQS Concept, which is intended to be the final iteration of the series.
DS 3 E-Tense : The DS 3 E-Tense boasts a 50kWh battery and an average 200 miles of range. The E-Tense is the first 100% Electric Vehicle from DS Automobiles, and a great SUV option for those looking for a little more room to manoeuvre.
Hyundai – Ioniq: An estimated range of 169 miles for the revamped Hyundai Ioniq Electric Car means it comes with the economy and reliability many first-time EV drivers are searching for.
MG ZS : With a 44.5kWh, water-cooled lithium-ion battery, the MG ZS EV offers a driving range of up to 162 miles on a single charge,
BMW i3: The BMW i3 is outfitted with a compact 42.2kWh battery pack and employs ground-breaking battery tech for high energy density and an estimated 160-mile range.
---
Information Source: Read Full Report ..–>
---