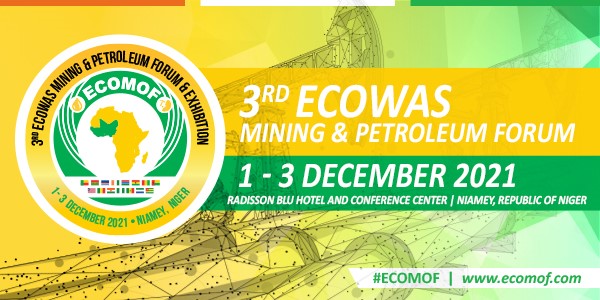 3rd ECOMOF has NEW DATES
3rd ECOWAS Mining & Petroleum Forum happens in Niamey, Republic of Niger, on 1 – 3 December 2021.
The Republic of Niger, Niamey, is the ECOWAS member state hosting the 3rd ECOWAS Mining & Petroleum Forum (ECOMOF 2021), is now taking place on 1 – 3 December 2021, at the Radisson Blu Hotel & Conference Center, Niamey, to allow some high profile government officials to be present. Under the theme "Integrating the Mining and Petroleum Industries in the development of Regional Value Chains", the 3rd edition of ECOMOF is organised by the ECOWAS Commission, the Government of the Republic of Niger and AME Trade.
The event is one of the largest mining events in West Africa and brings together the highest-ranking government delegations from the ECOWAS West African Member States which includes: Benin, Burkina Faso, Cape Verde, Cote d'Ivoire, Gambia, Ghana, Guinea, Guinea Bissau, Liberia, Niger, Nigeria, Senegal, Sierra Leone and Togo.
---
ECOMOF creates a favourable environment to B2B development; Access in first hand the latest technologies, products and services for the mining and petroleum sectors in West Africa; Have the unique opportunity of showcase their products and services at a regional level; Strengthen and develop new linkages between all sections of the mining and petroleum supply chain.
---
The 2021 edition already has confirmed Global Atomic, OM Goldstone Resources, Goviex Uranium, Endeavour, NIGELEC and IRD as sponsors. The 2021 participants can join ECOMOF 2021 as Delegate, Sponsor, Exhibitor and Speaker, by registering via https://ametrade.org/event/ecomof-2021/ or by email ecomof@ametrade.org