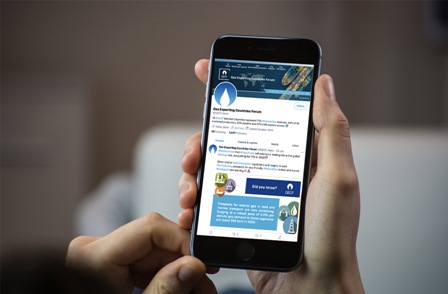 GECF explores consensus on methane emissions
Entitled "Methane Emissions Reduction Practices and Measurement Workshop", the event gathered leading experts drawn from the energy world who explored ways to tackle the second most abundant anthropogenic greenhouse gas after carbon dioxide (CO2) in our atmosphere.
Agricultural activities are the biggest contributor to methane emissions, followed by the oil and gas industry, accounting for around 25%, of which 77% comes from the upstream sector. Methane is more than 25 times as potent as carbon dioxide at trapping heat in the atmosphere. It is, however, much more short-lived compared to CO2.
---
Welcoming the guest speakers and the audience, HE Yury Sentyurin, Secretary General of the GECF, underscored the complex challenges imposed by climate change and the many solutions the Forum is advancing as part of an international effort. "Methane emissions as a topic has historically been complex due to lack of data transparency and due to difficulty in quantifying and detecting the primary source. The good news is that our industry has practices in place to monitor, reduce, and prevent methane emissions," said HE Sentyurin. Citing United Nations (UN) figures, HE Sentyurin noted that around 80% of oil and gas measures abatement practices could be implemented at a negative or low-cost. "Globally, the GECF is engaged with the UN Framework Convention on Climate Change as an observer organisation and aims, through this involvement, to contribute to the international climate debate and promote our Member Countries' collective actions for improving the environmental credentials of natural gas and promoting its role in sustainable development."
---
Guest speaker Mr Wael Abd El Moati, Gas Industries Expert at Organisation of Arab Petroleum Exporting Countries (OAPEC), enriched the event with his ideas on mitigating techniques that can be applied across the industry. "We have to first look at the big picture. The contribution of oil and gas sector to the global methane emissions is estimated at 9-12%. It's not 70 or 80 or 90%. We are a component in the other big components," said Mr El Moati. "My key message today is that methane emissions reduction creates an opportunity – a real opportunity – to make oil and gas industry part of the solution to achieve sustainable energy system."
---
Next guest speaker, Mr Christian Lelong, Director of Natural Resources at Kayrros, delved into the firm's Methane Watch initiative, which is the only monitoring platform in the world to measure the methane footprint of companies, regions and countries on a global scale. The Methane Watch of Kayrros, an advanced data analytics provider, uses satellite imagery and advanced algorithms to generate real-time atmospheric measurements. "We think satellite is a very important tool. We have been collaborating with the International Energy Agency… the European Commission; we are using their satellites which we are very happy with in helping to find ways to improve the technology for satellite monitoring. But we are also very keen to work with the industry," said Mr Lelong. "At the end of the day, it's the industry that will be coming up with the solutions and our role therefore is as a data provider and to help the industry understand where, and perhaps, how to mitigate emissions efficiently."
---
The third speaker at the widely attended event was Eng. Mustafa Amer, Researcher at GECF, who presented methane abatement practices and a case study from the upstream gas sector from a GECF Member Country. "Methane data widely vary across sources. Improving methane measurement at scale will accelerate the progress globally. But priority should be given to abatement practices that target venting in the upstream sector," noted Mr Amer. "Methane abatement technologies in the oil and gas industry are available and can be accompanied by numerous economic gains."
---
Information Source: Read Full Release ..–>
---
Press release by: Nadezhda M. Lyubovskaya, International Affairs and Public Relations Office ,Gas Exporting Countries Forum