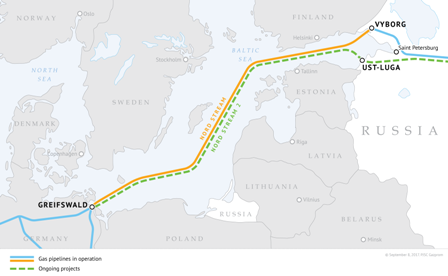 Germany suspends procedure to certify Nord Stream 2
Germany's energy regulator has suspended the approval process for the controversial Nord Stream 2 natural gas pipeline from Russia to Germany. It said the pipeline's operating company needed to be compliant with German law before it would certify the €10bn (£8.4bn) project. The decision sent UK and mainland Europe wholesale gas prices, already under pressure, to three-week highs.
Critics fear the pipeline will increase Europe's energy dependence on Russia. Russia's state-owned Gazprom said the pipeline was ready in September, but it has been beset by delays. BBC reported.
---
Information Source: Read More
Oil and gas, press , | Energy, Climate, Renewable, Wind, Biomass, Sustainability, Oil Price, LPG, Solar