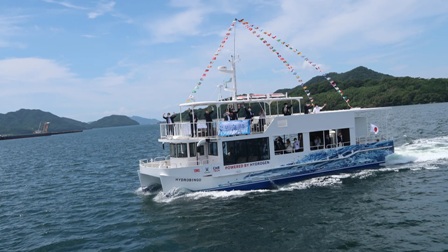 Hydrogen-powered ferry launched in Japan
Tsuneishi and CMB presented the HydroBingo, the world's first hydrogen-powered ferry.
The HydroBingo is the first 80 passenger ferry for commercial use with two hydrogen diesel combustion engines. This hydrogen-powered ferry is an eco-ship that significantly reduces the amount of CO₂ and other harmful gases. CO₂ emissions are up to 50% lower compared to a conventional diesel engine.
---
It is equipped with a mobile hydrogen trailer at the stern, which is designed to deliver hydrogen to the engine via a special double walled pipeline. Via a ramp, the trailer can be unloaded easily and can be brought to a refuelling station for refill. In addition, she has several hydrogen-related applications that reflect the dual-fuel ship design based on the requirements of the IGF Code and according to the "Safety Guidelines for Hydrogen Fueled and Fuel Cell Ships" made on the basis of hydrogen fuel specialties. This vessel has also received approval for inspection from the Japan Craft Inspection Organization (JCI).
---
Information Source: Read Full Release ..–>
---