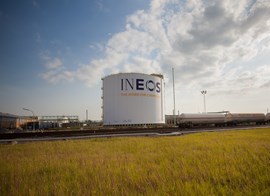 INEOS to deliver emissions savings of over 60% across its site by 2030
INEOS Grangemouth has today announced planned further investment of over £1 billion towards reducing greenhouse gas emissions at its site to net zero by 2045, building on the 37% reduction in net CO2 emissions already delivered since acquiring the site in 2005.
---
INEOS has already committed over £500m spend on projects which are approved and currently being implemented at Grangemouth. This includes investment in our New Energy Plant, which is due for completion in late 2023 and will supply energy to all our site operations and the highly efficient technology will drive down emissions by at least 150,000 tonnes of CO2 per annum.
---
Today's announcement includes in excess of a further £1 billion spend to enable this next phase of the transition to net zero.
Our Road Map will deliver a reduction in excess of 60% in greenhouse gas emissions by 2030 through a series of investments, partnerships, and innovative engineering.
---
Information Source: Read Full Release –>
Oilandgaspress.com | Energy, Climate, Renewable, Wind, Biomass, Sustainability, Oil Price, LPG, Solar