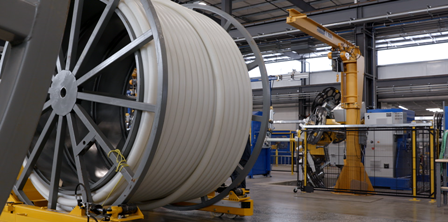 Baker Hughes new composite flexible pipe for onshore pipelines
Baker Hughes announced the launch of its next generation Onshore Composite Flexible Pipe to address the corrosion and cost of ownership challenges with conventional steel pipe for the energy, oil and gas and industrial sectors.
---
The flexible, lightweight reinforced thermoplastic pipe (RTP) offers an economic and environmentally superior alternative to resource-intensive onshore steel pipes, for optimizing the core structure of flowline and oil and gas pipeline networks. A key feature of the pipe is its proven spoolable design, making it easier, faster and more cost-effective to transport and install versus steel pipe – reducing installed costs by more than 20%.
Installation also requires fewer onsite support facilities and heavy vehicles, de-risking operations, taking up less width on a pipeline right-of-way and reducing environmental impact on surrounding land.
---
Baker Hughes' Onshore Composite Flexible Pipe offers an economic solution for the transport of CO2 and hydrogen, as well as the conversion of existing infrastructure to carry gases. In addition, the pipe's non-corrosive materials can withstand contaminants without requiring chemical inhibitors, corrosion monitoring and inspection, or disruptive repair work – significantly reducing operating expenditures.
---
Information Source: Read Full Release ..–>
---
Press release by: