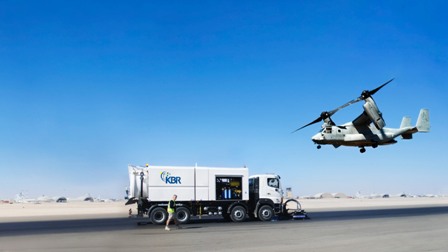 KBR wins $91.8M Task Order from U.S. Air Force
To provide high-end engineering services to research, analyze and develop solutions for U.S. Air Force (USAF) aircraft and other system components managed by the 448th Supply Chain Management Wing (SCMW).
---
"This is an exciting opportunity to bring our engineering expertise to the 448th SCMW as we continue to develop and deliver cost-effective solutions to the warfighter community," said Byron Bright, KBR President, Government Solutions. "Our work will directly address key performance attributes for reliability, maintainability and supply chain performance, thereby increasing overall effectiveness for the Air Force."
---
The USAF Installation Contracting Center awarded the cost-plus-fixed-fee task order through the DoD Information Analysis Center's (IAC) Multiple Award Contract, an indefinite delivery, indefinite quantity vehicle for complex, integrated professional projects. KBR has supported the mission of the DoD research and development community through various predecessor DoD IAC contracts since 2005.
---
Under the task order, KBR will identify and develop solutions for the Air Force to address Diminishing Manufacturing Sources and Material Shortages (DMSMS) issues associated with increasing aircraft age, such as fatigue cracking, reduced damage tolerance, and corrosion. The company will also provide engineering analyses of electronic warfare systems and components, and assess fundamental design requirements, logistics supportability, and life-limiting degradation issues.
---
Additionally, KBR will assess software and security impacts, and modify requirements due to platform needs or redesign efforts and evaluate aircraft fleet status. This includes depot requirements, repair processes, procurement of parts, modification of procedures, engineering support, data management requirements, software requirements, and overall product support.
---
KBR will carry out these duties in Georgia, Oklahoma, and Utah as well as other locations over the next five years. The company has performed similar tasking for the Air Force Life Cycle Management Command (AFLCMC) since 2005.
---
Information Source: Read Full Release ..–>
---