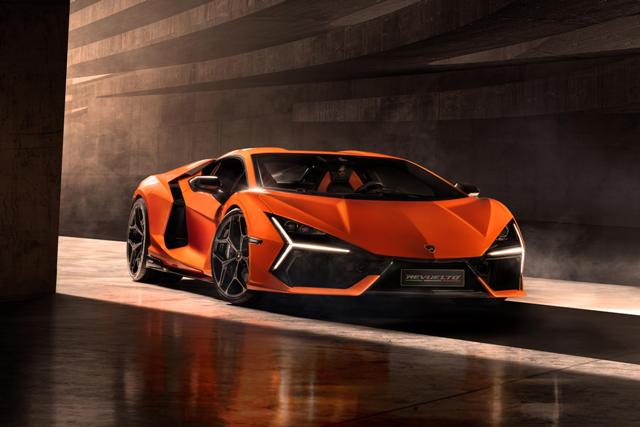 Lamborghini Revuelto Super Sports V12 Hybrid HPEV unveiled in Singapore
London, 22 September, 2023, (Oilandgaspress) – Lamborghini launched the highly anticipated Lamborghini Revuelto, the first super sports V12 hybrid plug-in HPEV (High-Performance Electrified Vehicle), to over 250 VIP guests and media in Singapore.
Revuelto defines a new paradigm in terms of performance, sportiness and driving pleasure from its unprecedented new architecture; innovative design; maximum aerodynamics efficiency; and a new carbon frame concept. An output of 1015 CV is delivered from the combined power of an entirely new combustion engine together with three electric motors, alongside a double-clutch gearbox that makes its debut on a 12-cylinder Lamborghini for the first time.
The powertrain combines high-specific power elements: the new 128 CV/liter combustion engine works synergically with two front axial flux motors that deliver an outstanding weight-to-power ratio, with a radial flux electric motor positioned above the first eight-speed double-clutch gearbox debuting on a 12-cylinder Lamborghini. The three electric motors are powered by a lithium-ion high-specific power (4500 W/kg) battery pack that also supports a fully-electric drive mode.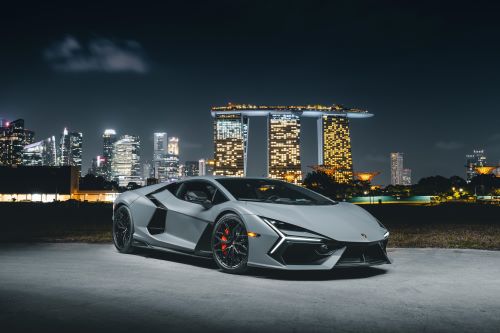 Carbon fiber, produced via artisan craftmanship in the Sant'Agata Bolognese factory, is the principal structural element within the new car, used not only in the monofuselage and frame but also in all elements of the bodywork apart from the doors and bumpers. The extensive use of carbon fiber and lightweight materials, combined with the potent engine power, contributes to achieving the best weight-to-power ratio in the history of Lamborghini: 1,75 kg/CV.
The new Revuelto combines these attributes to deliver performance figures at the peak of its segment: acceleration from 0-100 km/h in only 2,5 seconds; 0-200 km/h in less than 7 seconds; and a top speed of more than 350 km/h. These numbers combine with its exceptional dynamism thanks to the introduction of electric torque vectoring, and four-wheel drive available also in fully-electric drive mode, ensuring the Revuelto super sports car expresses its amplified qualities both on track and in daily driving.
In celebration of Automobili Lamborghini's 60th Anniversary, a commemorative digital art piece entitled "Icons of a Tropical Future" was unveiled alongside the Revuelto. Created by Singaporean visual artist Howie Kim, who is renowned for his bold and surreal style, the digital animation depicts elements that synergise the forward-looking, future-oriented philosophy of Lamborghini, with iconic symbols of Singapore. Notably, the animation features the 350GT, the first Lamborghini ever produced, portraying timelessness and underscoring the brand's journey of growth, evolution, and innovation over the decades.
Automobili Lamborghini Region Director for the Asia Pacific, Francesco Scardaoni comments,"We are thrilled to present the Revuelto to our Lamborghini customers and fans in Singapore. The new Revuelto sets the stage for an era of super sports car evolution in the hybridisation phase, and it is also a significant milestone for the brand as we commemorate Lamborghini's 60th anniversary. This car is a perfect interpretation of the brand going 'beyond' and continues Lamborghini's heritage of revolutionising the automotive world with our iconic V12."
---
Information Source: Read More
Energy Monitors , Electric Power , Natural Gas , Oil , Climate , Renewable , Wind , EV , LPG , Solar , Electric , Electric Vehicles,